State-owned Qatar Airways is a FIFA partner and sponsor of the World Cup in Russia and Bayern Munich. Migrant workers at Hamad International Airport, which is owned by the airline, are being subject to major human rights abuse.
Babu from Bangladesh has been working at the airport every day since his arrival to Qatar in October. On several occasions he has been forced to work double shifts. Sometimes, he gets so tired that he tries to sneak a few minutes of sleep in the restrooms or below the four-wheel drives in the airport's parking lot.
Text Håvard Melnæs
Photo Faiz Abu Rmeleh
Support Josimar!
In order to conduct investigative journalism, we need help from our readers.
Give 50 NOK: Send sms with code word Eder to 2199.
Give 100 NOK: Send text with code word Junior to 2199.
Give 200 NOK: Send sms with code word Falcao to 2199.
Give 500 NOK: Send sms with code word Socrates to 2199.
On July 5th, 2017, a little more than three years after its completion, Hamad International Airport received the message they had been striving towards: The airport became only the sixth in the world to receive five stars from the consultancy firm Skytrax. His Excellency Akbar al Baker, CEO of Qatar Airways Group, was, well, flying high: «Hamad International Airport more than exceeds passenger expectations by providing what passengers want in an environment that is beautiful, thoughtful and welcoming», he said, adding that travellers may shop in world class tax-free stores, relax in one of the airport's twelve lounges or use some of the many facilities in the spa department, which include several squash courts and a swimming pool.
Whether employed by Qatar Airways itself or one of its many subcontractors, several thousand people work at Hamad International Airport; nearly all are migrant workers. In recent years, mainly due to the fact that the tiny gulf state is scheduled to host the 2022 FIFA World Cup, Qatar's treatment of its foreign labour force has been subject to major international scrutiny. When the World Cup kicks off, the airport will be the main gateway to Qatar: The competing squads, the world's media and thousands of travelling supporters will form their first impressions of the country here. The capital, Doha, is currently one enormous construction site, work going on around the clock. As giant, new construction projects regularly commence, ever-more migrant workers are imported. Every year since 2010, when Qatar was awarded the right to host the 2022 World Cup, the number of foreign workers in the country has increased. Today, Qatar hosts more than 2 million foreign workers, who, according to international human rights organisations are being treated with slave-like methods. Not only are many of them mistreated, every year hundreds of foreign workers lose their lives; in most cases, no official cause of death is recorded.
In 2012, 520 workers from three different countries (Bangladesh, Nepal, and India) died in Qatar; 375 of those deaths went unexplained. According to Human Rights Watch, there is no reason to believe that these numbers are any lower today. It is more probable that the death toll is rising in concurrence with the increased amount of foreign workers. And still, for most of those who return home in a coffin, the cause of death remains unknown.
In October the Qatari government yet again announced a labour legislation reform. Previously, such proclamations have not been transformed into practice. But this time they meant business, the authorities promised, and they received support from the UN's International Labour Organization (ILO), and the International Trade Union Council (ITUC), the largest international trade union in the world. The Secretary General of ITUC, Sharan Burrows, who for years has been referring to Qatar as an apartheid state and a slave state, declared that «Qatar has set a new standard for the Gulf States, and this must be followed by Saudi Arabia and the UAE where millions of migrant workers are trapped in modern slavery».
The controversial kafala-system, where the labourer is made dependent on his employer under rules which, in practice, amount to slavery, was to be abolished. Qatar's nearly two million foreign workers were no longer to have their passports confiscated; no longer would they require their employer's permission in order to travel home; they would acquire the right to change employers according to their own wishes; and a minimum wage would be introduced. But, after the authorities announced these measures of reform half a year ago, has there really been genuine change for the foreign workforce in Qatar – the richest country on Earth?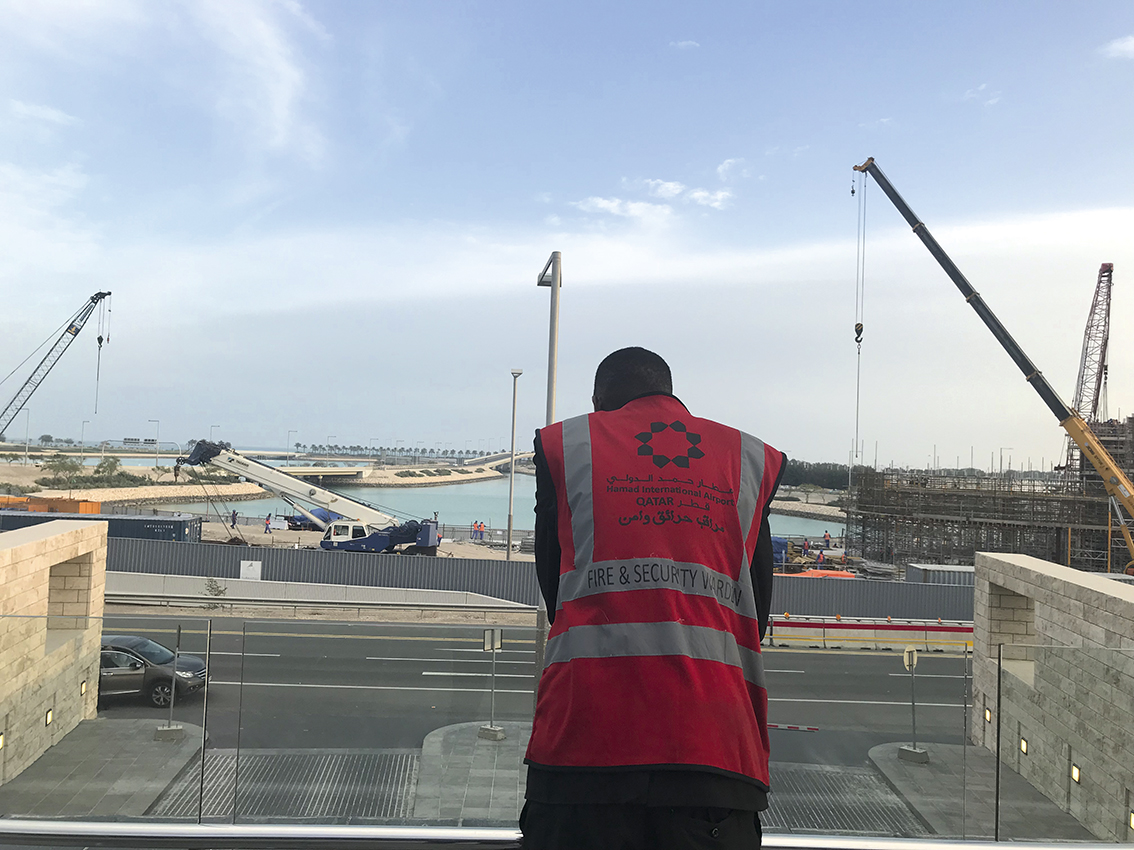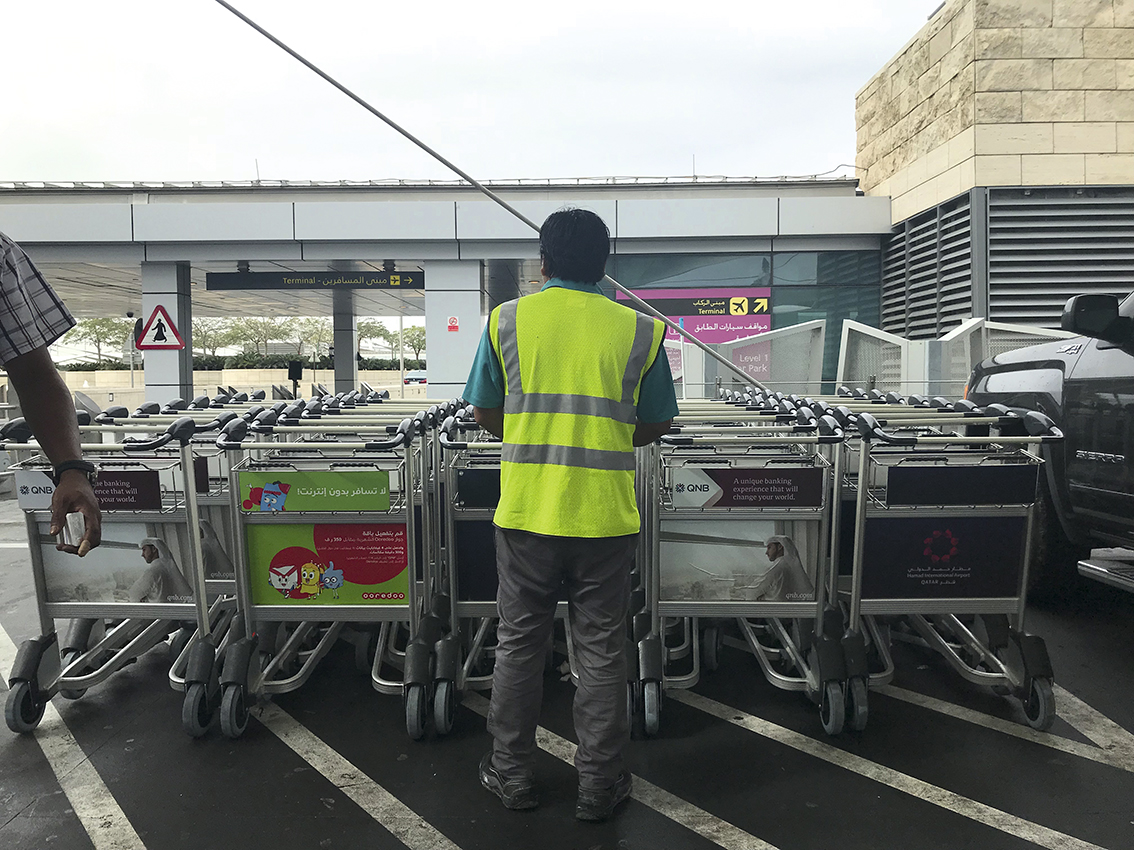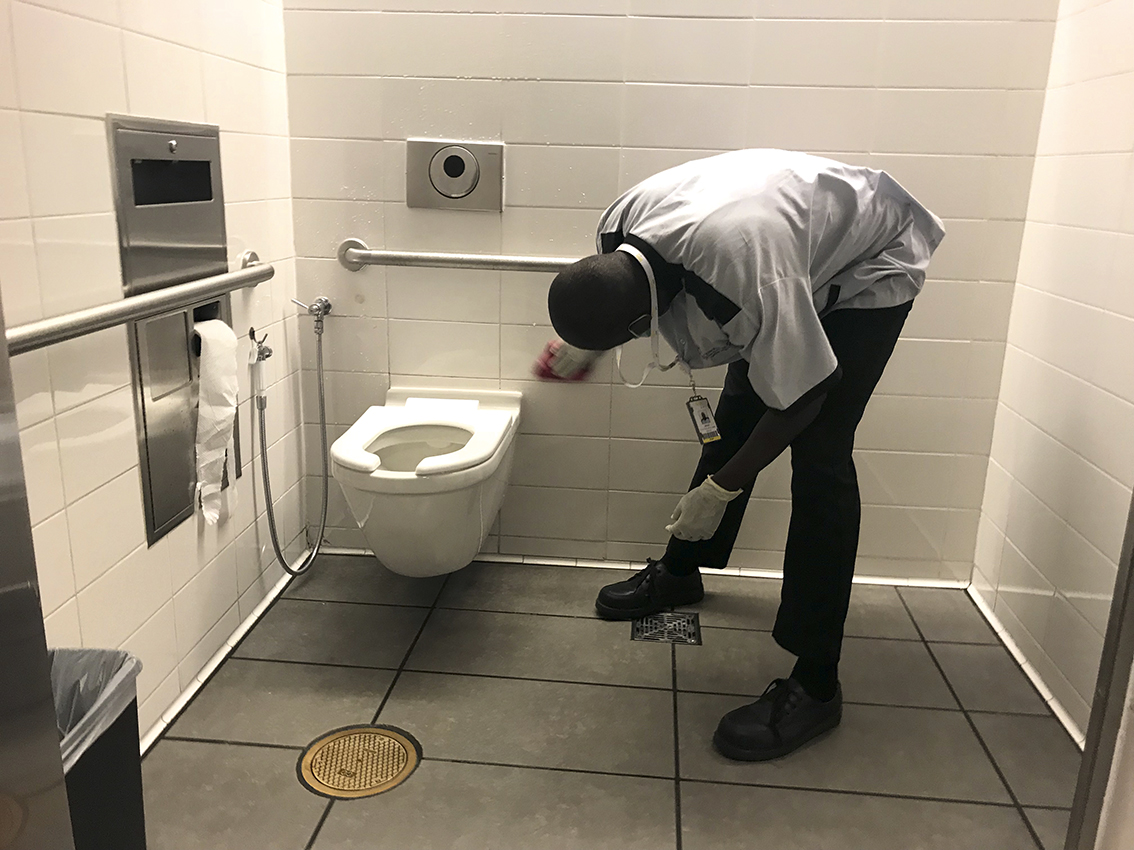 That's life
Outside Hamad International Airport, orange-clad workers pick litter, cut branches and gather leaves. The seven men are from Bangladesh and work for Nakheel Landscapes, a sub-contractor to the airport. On the company's website, one can read that they have more than 3600 employees – more of 2200 of whom are unskilled workers – and have an annual turnover of more than just short of one billion dollars. The company claim they take the rights, dignity, well-being and security of their employees seriously. The workers tell Josimar it's a hard job, especially in summer when temperatures may be as high as 44-45 °C and a relative humidity of more than 80 % is not uncommon.
"It's better to work in winter. In summer it's far too hot. Even if we're given time off from noon to 3 pm in the summer months, we still have to remain outdoors. So then we try to find some shadow where we can rest. In winter we're not allowed to take any breaks at all, but we still do sometimes, when the boss isn't watching," says Mahir, the only one among the seven who speaks English.
He informs us that they work start at 4 am and ends 4 pm six days a week. On work days, they're picked up by a bus at 3 am, and will not return to their labour camp in an industrial area outside Doha until some fifteen hours later.
"The bus ride home takes twice as long due to heavy afternoon traffic," Mahir explains.
Last autumn, Qatar introduced a minimum wage of 900 riyals (approximately 200 dollars) a month. Mahir says he and his fellow workers have not been informed of this.
"We make 650 riyals a month. That's been our wage since we came here. Before we went, we were promised a wage of 2000 riyals, but that was a lie. Everyone I know here has been fooled by recruitment agents who promised them higher wages.
650 riyals a month equates to a daily income of seven dollars, or 60 cents per hour. Like the vast majority of Bangladeshi workers in Qatar, Mahir and his work-mates had to pay a substantial amount to their recruitment agent in order to get a job in the country.
"Most of the money goes to our families. Whatever's left to pay our debts to the recruitment agent," he explains.
Presently, there are almost 300 000 Bangladeshi workers in Qatar – almost as large a percentage of the country's population as the Qataris themselves. Mahir tells us that some in his group have been in Qatar for several years. He, however, arrived with his brother about three years ago.
"We can't think about whether we like it here. We can't think about the fact that we feel we're being treated like animals. Our families back home depend on us to survive. That's life," says Mahir.
This autumn, for the first time since he arrived in Qatar, he'll be travelling home on vacation. He hasn't seen his wife or his two daughters aged six and five since he left Bangladesh in the spring of 2015.
Same job, different wage
Anthony from Uganda arrived in Qatar two years and four months ago. He works for the multinational security company G4S, which, with some 585 000 employees worldwide is the third largest private employer on the planet. Anthony, too, was promised a higher wage than the one he eventually got in Qatar. He, too, had to borrow money to pay a large sum to his recruitment agent in order to get here. And he, too, like Mahir, has a wife and children back home.
"I work twelve hours a day. Fourteen hours including the bus ride from the camp site to work and back again. Compared to other Ugandans I know here, who have other employers, I live pretty comfortably. We are only four people who share a room. I have one day off a month and make 1500 riyals. I send 700 to my wife, 300 to the recruitment agent whom I owe money, the rest I spend on food. My meals are not covered by my employer. My boss has promised I can go home on vacation this autumn. Here in Qatar I don't live, I just exist," he says.
One of Anthony's colleagues comes over and introduces himself.
"Charlie," he says, extending a hand.
I tell him I'm a journalist from Norway, investigating working conditions at the airport.
"Guess when I last had a day off," Charlie smiles.
"Last Friday," I venture.
"Friday in Qatar equates to Sunday in Europe.
"Wrong. October 21st, 2017."
"That's more than 100 days ago," I reply.
"Yessir. You can tell Norway that the only thing I experience in Qatar, is the passage of time," Charlie says. Someone calls him up on his walkie-talkie and he disappears into the airport's maze.
Outside the mosque next to Hamad International, Chris from the Philippines and Indra from Nepal relax on a bench. They both work in maintenance, have the same employer, perform identical tasks and work the same hours. Yet while Chris makes 2200 riyals a month, Indra has to make do with less than half of that amount. Qatar, along with its fellow Gulf states, share a controversial practice: workers are valued according to the strength of the currency in their homelands.
"This nationality-based wage discrimination is racism," says Vani Sarashwati from the organisation Migrant-Rights-org.
She's from India, but has lived in Qatar for 18 years and knows the conditions foreign workers must endure better than most.
"It is sickening, but the workers are being treated differently based on their country of origin. The Nepali and Bangladeshi workers get the worst. Many of them are treated like machines or animals. It's the same with the Africans. They've been arriving in droves for the past few years, and are also being treated horribly. Nepalese get paid less than Filipinos, Filipinos less than Indians, and Indians less than whites from Europe and North America," says Billy, one of the leaders of the Filipino community in Doha.
Chris and Indra have a number of things in common: Both are married with children and had to pay recruitment agents in their respective home countries large amounts of money in order to land a job in Qatar. While Chris says a fixed amount is withdrawn from his monthly wage to repay the agent, Indra sends money back home to a local loan shark. They're both employed by Facilities Management & Maintenance Company (FMM), a subsidiary company of Qatar Airways.
To speak is to place yourself in harm's way
Babu from Bangladesh also works for FMM. He smiles obligingly, but looks tired as he polishes the luggage trolleys by the parking lot. When Skytrax awarded Hamad International its five stars, the cleanliness of the sanitary facilities and public areas were two of the criteria. The restrooms got four and a half out of five possible stars, the public areas received full marks. Babu has been in Qatar since last October. Some days he cleans the restrooms, other days he works in the public areas. He is married and has four children back home. He tells us he has been working every single day since he began in the job, and says he's tired, especially because he's often told to work double shifts.
"In calm periods, during the night, I try to get a little sleep."
Where do you sleep, then?
"Either in the restrooms, under the four-wheel drives in the parking lot, or else in the mosque. Sometimes, I'm so exhausted I'm not certain if I'm asleep or awake."
Twice, he's been caught sleeping in the restrooms by the airport's security guards.
"The first security guard was nice, but the second one told my boss about it. I was then informed that if it happened again, I'd be on the next plane back home to Bangladesh."
None of the migrant workers interviewed in this article are being presented under their real names. To speak openly to journalists carries too great a risk. Fabien Goa, special adviser at Amnesty International, has migrant workers and major sports events as his field of expertise.
«We have to take several specific precautions when working in interviewing migrant workers in the Gulf states, because employers can control and monitor practically everything the workers they do. We have to be extra careful when speaking to the workers, so that we don't expose them to danger. Even by talking to us, or you as a journalist, a labourer may face serious consequences. That's why we hardly ever use their real names. If they are identified through text or photographs, the likelihood that they will could lose their jobs, face arrest and deportation is great,»
Goa says.
«Actually very bad»
For ten days, Josimar visited Hamad International to listen to the stories of the workers there. The stories told by Babu, Anthony and Mahir were by no means unique. Without exception, the workers told us they had paid recruitment agents in their home countries, a fact which, in effect, renders them economic hostages: They have no choice other than to stay in Qatar. Local labour laws state that the maximum allowed amount of working hours is 44 per week. Every labourer we spoke to worked significantly more, several said they worked more than twice as many weekly hours. The same labour laws also say workers are allowed one journey home per year, but none of those we spoke to, were aware of this. Most told us they were only allowed to travel home after three years. Many of those we spoke to, had been allowed to keep their passports, but this does not really improve their situation as they still require their employer's blessing to get an exit visa. Confronted with Josimar's findings at Hamad International, Sharan Burrow, secretary general of ITUC, concedes that «conditions are actually very bad», but quickly adds:
"The deal we now have in place will quickly change this!"
Andrew Gardner, professor of social anthropology at University of Puget Sound in the United States, and an expert on the Gulf states, is less certain:
"The problems and challenges migrant workers faced ten years ago, remain the same today. It is fascinating that for the last twenty years, there's been an almost constant stream of announcements from the governments of the Gulf states that they will end the kafala system, that they will see to that significant improvements to the conditions for migrant workers will be put in place. So, such announcements are nothing new, and if you ask me, one should be very careful to take them at face value. We have to measure such announcements against the concrete consequences they have for migrant workers. I don't get too excited about all this, because we've heard it all before. Nonetheless, there is  potential in these announced labour reforms, and it's a good thing that Qatar is being encouraged to make such changes. What remains to be seen, is whether they will actually implement the reforms," Gardner says.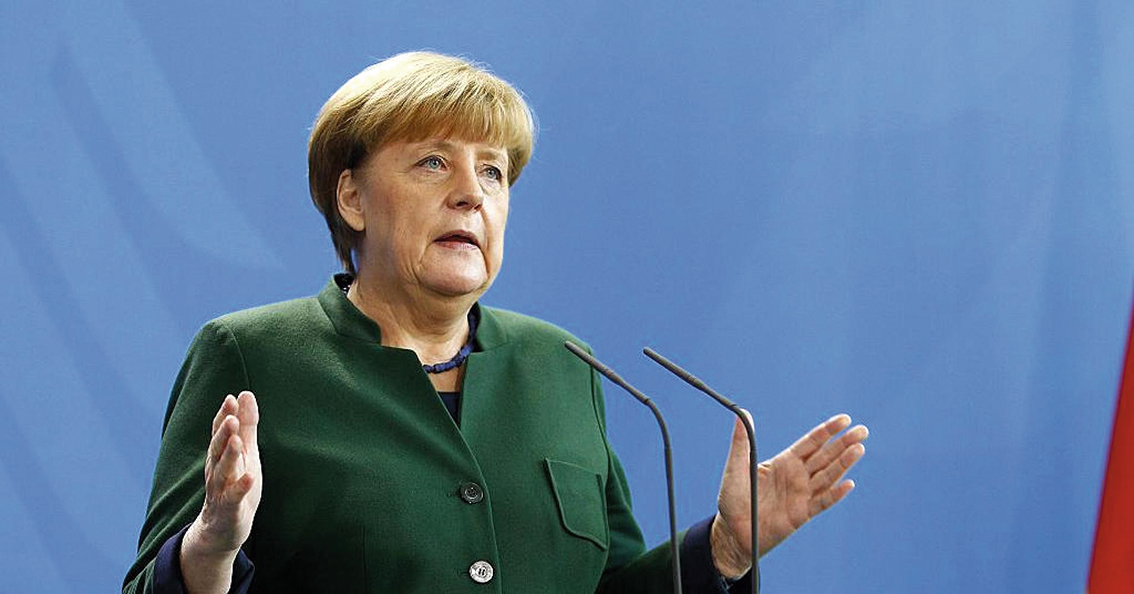 Bayern and Merkel
Towards the end of 2016, Human Rights Watch received a missive from one of Angela Merkel's closest associates. The Chancellor's Office requested a report on human rights conditions in Qatar. Bayern Munich had entered into negotiations with Qatar Airways Group and asked the Chancellor's advisors for, well, advice. The German giants will take no potentially controversial commercial decision without first consulting the country's political leadership. Merkel's office contacted HRW to ask for their advice on what steps they should take if entering into a partnership with government-owned enterprises in Qatar. In the memo that HRW sent back to Bayern, which is in Josimar's possession, one can read:
Concerning a possible agreement between Bayern Munich and a Qatari government entity:
The first and most important thing to note is that any relationship that Bayern Munich enters into with the Qatari authorities poses a serious risk to the club's reputation. Qatar maintains a deeply repressive labour system that it has refused to reform despite unprecedented levels of critical coverage in the international media. Any agreement that involves the use Bayern Munich's brand and global reach to either directly or indirectly promote the image of Qatar will inevitably lead to accusations from supporters, journalists and NGOs that it is involved in an exercise in reputation laundering.
If Bayern Munich wants to avoid these accusations, it can take steps to ensure its relationship with the Qatari authorities brings benefits to workers in Qatar. It can do this in two ways.
Firstly, by expressing its support for basic and much-needed labour reforms in Qatar and very specifically makes clear its expectation that Qatari authorities will abolish the highly abusive system of exit visas which means that any foreign worker needs his/her employer's permission to leave the country in the form of an exit visa.
Secondly, Bayern Munich could take steps to ensure that the workers involved in any of the club's activities in Qatar, whether that be the workers in hotels or at training facilities, are properly protected.
Human Rights Watch also enclosed a proposed statement on Bayern Munich's behalf should they decide to enter a partnership with the government-owned Qatar Airways Group:
In full conformity with established international law, Bayern Munich wishes to express its support for much needed basic labour rights reforms in Qatar, and very specifically it wishes to convey its expectation that Qatari authorities will take genuine steps to abolish the system of exit visas which means that any foreign worker needs his/her employer's permission to leave the country.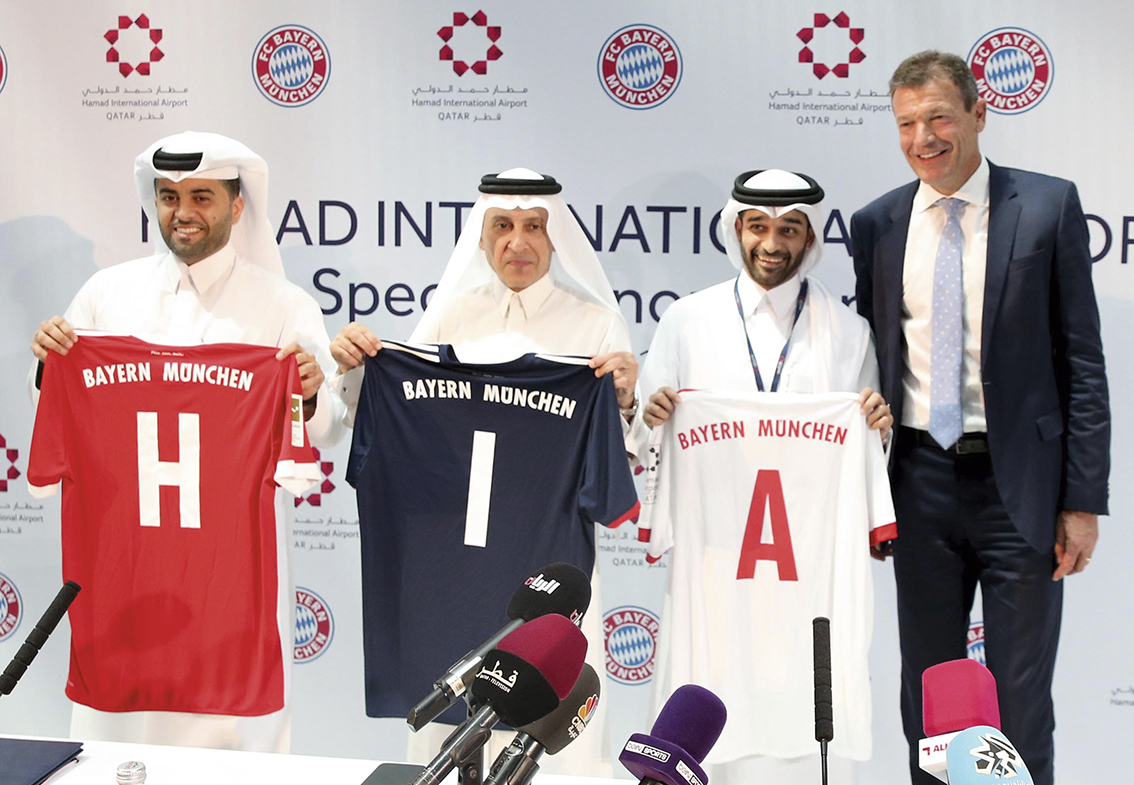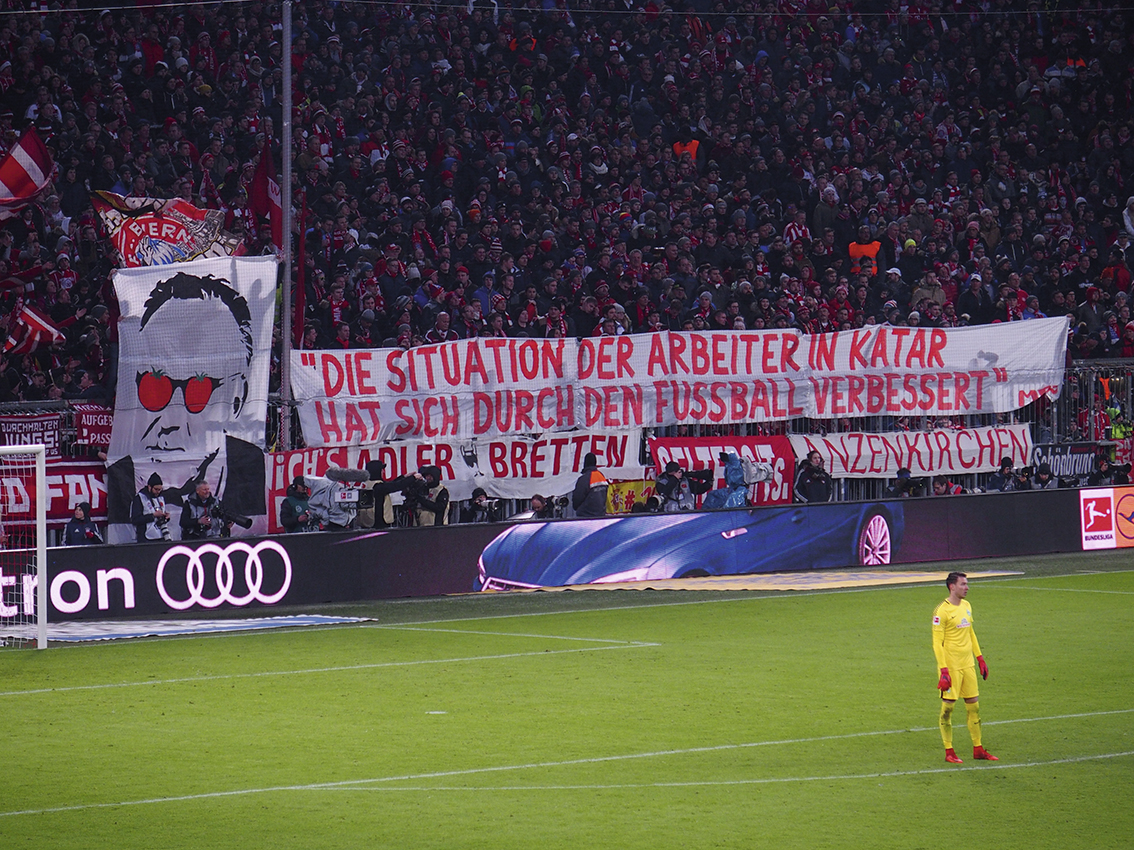 Supporters protest
The report was sent to Bayern Munich via Chancellor Merkel's office. As one of Germany's most internationally recognisable brands, it has been an explicit strategy for the club to cooperate with other well-known German brands in order to promote one another in the global market. Among Bayern's most important sponsors are other German giants such as Audi, Allianz, T-Mobile and Adidas. For 16 years, Lufthansa was a Bayern sponsor and the club's official airline partner. Starting this July, however, Qatar Airways will take over as Bayern's so-called platinum partner. Lufthansa were very interested in continuing as a sponsor of the club, but eventually had to concede defeat.
"We do not have the same means at our disposal as a national airline, and therefore have to make thorough evaluations before entering into a partnership. We have a responsibility towards our shareholders and our partners," the airline explained to Frankfurter Allgemeine Zeitung when the deal between Bayern and Qatar Airways was made public. Andreas Jung, Bayern's marketing director, was very pleased when the deal, which stretches through 2023, was announced:
"Qatar Airways is expanding its network of routes and are opening new opportunities in the Asian and American markets. This suits our international orientation, and we can can develop common and mutually beneficial strategies."
"Thanks to football, conditions for workers in Qatar have improved", club director Karl-Heinz Rummenigge told Munich newspaper TZ in January, as the Bayern squad were about to sojourn to Qatar for training camp. When the team returned, and welcomed Werder Bremen to the Allianz Arena for their first post-winter break Bundesliga match on January 21st, the ultras group Munich's Red Pride put up a banner in which Rummenigge's words had been placed between inverted commas, and another in which the director's eyes had been replaced by two giant tomatoes. "To have tomatoes in front of one's eyes" is a German expression for failing to see the obvious. The supporters group tells Josimar that whatever improvements may have been made to workers' conditions in Qatar, can hardly be attributed to FIFA or executives of Bayern Munich. Rather, it is a result of strenuous work by human rights organisations. The supporters find the club's partnership with Qatar morally questionable, and also object to the lack of transparency in relation to club members.
Following Josimar's findings at Hamad International, we wished to ask Bayern Munich certain questions. This turned out to be difficult. We called the club's chief press officer, Christopher Keil, several times, but received no reply. We sent him several text messages, but again received no reply. We sent him our questions per e-mail, but received no reply. We sent the following questions to the media department of Bayern Munich:
Before you entered into the deal with Hamad International Airport/Qatar Airways, it was reported that Bayern Munich had asked Human Rights Watch about the risks involved in entering into a closer partnership with companies in Qatar. What advice did you receive and did you follow it?
Did you attempt to acquire insight into whether Hamad International Airport/Qatar Airways were free of human rights abuse before entering into the partnership?
Were Bayern Munich at any point in contact with Angela Merkel's office before entering into the partnership with Qatar?
Has Bayern's reputation/image been tarnished after you entered into the partnership with Hamad International Airport/Qatar Airways?
When Bayern announced the deal with Hamad International Airport/Qatar Airways, market director Andreas Jung described the deal as a good fit. Do you still feel this way about this partnership?
Several days went by, with no reply. Eventually, we received the following e-mail from the club's media department:
"Please see the enclosed statements from our chairman Karl-Heinz Rummenigge regarding our partnership with Hamad International Airport, where he also expresses concern regarding workers' rights.
Generally, we can say that FC Bayern Munich compete in a global market with some of the foremost clubs in Europe. We look after our economic interests, in addition to certain social aspects to the advantage of our club and our team. When FC Bayern Munich entered into the partnership with Doha airport, Herr Frank Walter Steinmeyer, Germany's former foreign minister, described the deal as a regular business partnership between German and Qatari companies. Qatar is a major international investor, also in Germany (Volkswagen, Deutsche Bank, Siemens etc). Even as negotiations commenced, our partners in Doha already knew that we represent the values of our culture, the values of sport in general and of our club in particular. We have been pushing for dialogue regarding these values since. Our partners support us. To encourage women's sport and women's football in Qatar, Bayern Munich Ladies were invited to hold a training camp at the Aspire Academy in January. The Bayern team supported a women's football program within the Qatari Women's Sport Association by playing in friendlies with mixed teams. Since football plays a role in Qatar (the World Cup, FIFA, international competitions), we can see that the situation for workers has improved, which is confirmed by ILO, the UN's labour organisations. Articles about this are easy to find, because they have been published.
Kind regards
FC Bayern Munich, department of media and digital communication"
The three enclosed statements had been given by club chairman Karl-Heinz Rummenigge. The oldest was from 2015, the most recent from January of this year.
Tragical and irresponsible
Since 2004, Nicholas McGeehan has been working on the topic of workers' rights in Qatar, and from 2012-17 he was the Gulf expert of Human Rights Watch. He reacts strongly to the replies from Bayern:
"It's actually quite tragic. They come out with an announcement which does not address the very serious findings with which they have now been confronted. This shows that Bayern have no interest in doing the right thing, and, when push comes to shove, they're solely interested in money. The values on which they claim the club is based, comes a revealing second. I believe this will make their supporters, many of whom are socially engaged, quite angry. The club is betraying the values it claims to support. But this is unfortunately the norm among football clubs operating in ethical grey areas. They show no compassion or sympathy with young workers; instead, they attack the messenger. They should rather be angry with their own government which provided them with evidently erroneous assurances."
Can we believe football clubs who claim their most important value is fair play?
"No, of course not. 'Fair play' and 'kick racism out' and so on, these are all just beautiful words to which football pays lip service in order to attract sponsors and supporters."
How can football be changed into a more human game? Are supporters the last hope?
"Not only the last hope, they're the only hope. It's all about finding ways to take football back. What needs to happen is that supporters stand up for something. It might lead to a decline in terms of sporting results, so people must be prepared that the club they love might increasingly fail on the pitch. And of course that's difficult. Meanwhile, the most encouraging reactions come from Bayern supporters. They deserve a lot of credit. Not many supporters would have done the same. Bayern Munich are an example of everything that's wrong with the game, but their fans are a fantastic example of the things that are good about it."
With several years of experience as a researcher at Human Rights Watch, it was Nicholas McGeehan who was appointed to the task of writing the report commissioned by Chancellor Angela Merkel's office:
"I was to write a report highlighting the potential risks of Bayern Munich entering into a closer partnership with commercial interests in Qatar. Our advice to Bayern was crystal clear: Be open about what expectations you have regarding labour reform. Make sure you are absolutely certain there is no exploitation or maltreatment of workers at any project you're involved in. Carry out a thorough evaluation of the company with whom you choose to cooperate. Ensure you know with certainty that they operate in a responsible manner from a human rights perspective. The reason we highlighted these factors was that, if you're talking about labour reform, you can argue that you care and wish to see change. That you can be a positive influence. Secondly, if you try to fix the problems on the project in which you are involved, you have a direct influence which will help a large amount of workers. And that's important. If everyone did so, it would make an enormous difference."
Did Bayern Munich follow the advice of the rapport?
"No, they haven't."
Have they spoken publicly about the need for labour reform?
"No, they completely ignored our advice. They have been giving misleading statements based on what I would characterise as erroneous judgments by German authorities, namely that all is going well in Qatar, and that football has improved the conditions for migrant workers."
Which German authorities claim these things?
"These statements are those of Sigmar Gabriel, Germany's foreign minister. The problem with these statements is that they are untrue. They do contain elements of truth, but it's very much a simplified narrative. And they contributed to Bayern completely ignoring our advice."
As an airport, at such grave risk of being exposed and revealed, wouldn't you think Qatar Airways would look better after its workers?
"That requires you to care about your workers. It requires your findings to be somehow extraordinary. But they're not. These labour conditions are completely normal in Qatar. What you have found is, sadly enough, everyday life for the vast majority of migrant workers in Qatar. All Qatar has done is to look at projects directly connected to the World Cup, like stadium workers, they protect them a little better than others. Because it's towards these construction sites most people focus their attention. But stadium workers constitute only about 2 % of foreign workers in Qatar. It's not an attempt to improve the system, it's an attempt to divert attention from the larger problems."
Why should Bayern Munich care about human rights?
"You don't have to say a word, you can simply go to Qatar and take the money. But then you have no credibility when you present yourself as a value-based football club. This hypocrisy is a major problem. What irritates me a little, is that all you had to do was ask questions. You went to the airport, talked to the workers, asked if they were allowed to keep their passports, if they earned above the minimum wage. Why couldn't someone from Bayern have done so? They've been going to Doha for training camp for several years; why hasn't anyone spoken to the workers at the airport? Asked a few questions about wages, living conditions, and how many hours they put in a week. Is it difficult? It wasn't difficult for you. So how come they didn't do it?"
FIFA will investigate the airport
Josimar sent several questions to Qatar Airways, who own and run Hamad International. A spokesperson replied that our findings might have consequences for some of the sub-contractors at the airport.
"We consider all reports of maltreatment of our workers with the utmost seriousness. We will continue to work with the authorities in order to black-list all employers who violate Qatari labour laws. Any employer who treats his workers poorly will be banned from operating in Qatar for the foreseeable future", the spokesperson wrote in an email to Josimar. Asked why they entered into the partnership with Bayern Munich, the same person replied:
"Bayern Munich are a club with whom we wish to cooperate because it symbolises excellence and passion which corresponds with our goals for Qatar Airways. That our distinctive logo will now be found on the collars of the club's iconic shirt is something that makes us very proud."
Qatar Airways is one of the major sponsors of this summer's World Cup in Russia and one of seven official FIFA partners. Confronted with Josimar's findings at Hamad International Airport, FIFA replied:
"In accordance with our principles on human rights, FIFA takes its responsibility regarding human rights very seriously. Violations of workers' rights are not conducive to our values. FIFA are proactive and carry out thorough evaluations before entering into commercial deals, in order to minimise the risk of human rights violations. This is the first time we have been confronted with specific statements regarding Hamad International, and we will contact our local and international partners to check the veracity of these claims."