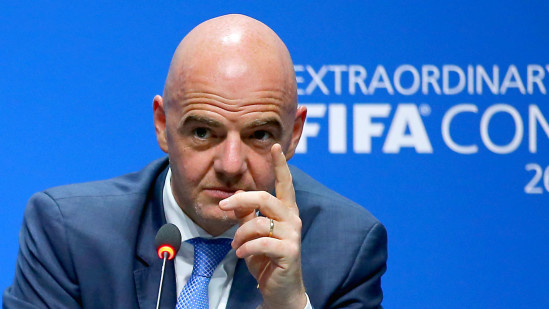 Since Gianni Infantino became FIFA President last year, he has removed every major player in the game of football politics that opposed or challenged him. The Swiss promised reforms, instead he is acting more and more like an autocrat.
By Pål Ødegård and Håvard Melnæs
«We will restore the image of FIFA, the respect of FIFA, and everyone will applaud us.»
These were the words of Gianni Infantino, a few moments after he was elected FIFA President in Zurich on 26 February last year. After the arrests of high profile FIFA members and the damage done by his predecessors, the message from the new President was clear: This was a new beginning.
15 months later, the picture is even clearer. The election of Infantino didn't represent a new start, rather more of the same old. One source with a prominent position at FIFA, tells Josimar:
«I saw it right away that Infantino wasn't a reformer. That became evident during his first week in office. He just wanted the power, and didn't care how he got it.»
And it's fitting for what Infantino represents, that this year's FIFA Congress took place in Bahrain – where even basic human rights is a privilege for the few.
Mexican standoff
Already a couple of months into Infantino's tenure, at the FIFA Congress in Mexico City in May 2016, alarm bells started ringing.
A sound recording from the meeting of the now defunct Executive Committee revealed how desperate Gianni Infantino was to get rid of Domenico Scala, the then chairman of the Audit and Compliance Committee. "We are hostages of them", the FIFA President said as he persuaded the other committee members to agree to a measure that made it possible to hire and fire chairmen of the independent committees at will, which in effect stripped these committees of their independence. In the same recording it became clear that Sunil Gulati, President of the United States Soccer Federation, had tried to persuade Scala to resign discreetly, without success. Gulati had been pivotal to get Infantino elected as FIFA President in the first place, and will most likely be awarded the 2026 World Cup to the United States in return. The following day at the congress, the motion was passed, even if most delegates weren't aware of it in advance. Some even admitted that they didn't know what they actually voted for. It was a sneaky coup d'etât by Infantino, and his first step to gain more control of FIFA. Domenico Scala, who was in charge of FIFA's reform program, resigned immediately in protest.
The shadow master
Gianni Infantino has been playing the game of football politics to perfection, by the rules invented by his predecessors. Despite the governing rules of FIFA explicitly state that the President can't involve or interfere in the election of its member confederations, this is precisely what Infantino has done.
15 months into his reign, both UEFA's and CAF's new presidents are Infantino's prefered candidates. Privately he strongly endorsed Aleksander Čeferin and Ahmed Ahmed. For the latter, he even toured Africa to secure enough votes to oust the veteran Issa Hayatou.
To get the unknown Aleksander Čeferin elected for UEFA President, Infantino turned to two of his closest allies: Vitaly Mutko and the Norwegian Kjetil Siem.
Siem was instrumental in getting Infantino elected as FIFA President and travelled extensively all over Africa in the months leading up the election to secure the Swiss enough votes. At this point Kjetil Siem was the Secretary General of the Norwegian FA. Previously Siem had been the CEO of the Premier Soccer League in South Africa for nearly four years. During these years Siem built ties to almost every African football politicians worth knowing. In Norway, Kjetil Siem is known as "the spider" – his main quality being a networker.
Josimar has spoken to several people with vast experience in UEFA and FIFA. One source tells Josimar:
"Nobody outside the inner circles saw Čeferin coming. Nobody saw Ahmed coming. This was carefully masterminded by Infantino. He is a very determined man. And he hates confrontations. It's his way or the highway. Now he is gaining absolute control."
The teammates from Slovenia
Aleksander Čeferin's landslide victory to become UEFA President was significant in another way as well. Eyebrows were raised when another Slovenian, Tomaz Vesel, took over Domenico Scala's position as chairman of FIFA's Audit and Compliance Committee. On the surface, Vesel seemed to have good credentials. Officially he had been recommended by the committee's deputy chairwoman, the South African Sindi Mabaso. But as this magazine revealed, not only was this highly doubtful; Vesel also turned out to be a friend of Aleksander Čeferin. They play football together on the same amateur team back home in Ljubljana. The UEFA President admitted at a press conference in Copenhagen in September, just days before he was elected in Athens, that someone from FIFA had called him about Vesel, but didn't reveal who.
Not only is Tomaz Vesel a friend of Infantino's handpicked UEFA President, according to FIFAs regulations, he was ineligible as chairperson of the Audit and Compliance Committee.
FIFA's Governance regulations article 5.1 clearly states that any "chairman or deputy chairman of its independent committees cannot have held any official function at a national or confederation level, including the four years previous to initial term".
This magazine could reveal that Tomaz Vesel held an official role at the Slovenian FA from 2011 until he was appointed as the new chairman of FIFA's Audit & Compliance Committee.
When we asked the FIFA Media Departement about Vesel's eligibility, they declined to answer.
Oligarchs and private jets
By then, Gianni Infantino had already been engulfed in controversy as it became known he had used private jets on several occasions. The private jets were provided by the Russian and Qatari governments, who coincidentally are the next two World Cup hosts. Especially the jet provided by oligarch and Putin-ally Alisher Usmanov through Infantino's personal friend Leon Semenenko was suspicious, which was used by Infantino to fly to Rome to visit the Pope. This caught the attention of FIFA's Ethics Committee, who launched an investigation. In the end, the committee decided against charging the FIFA President, but it was a close call according to sources close to the investigators. It was impossible to prove that the FIFA President had instructed his assistants to arrange these jets.
Recently rumours surfaced that Infantino again had fallen under their scrutiny as Der Spiegel claimed the Ethics Committee was looking into whether the FIFA President had unduly interfered in the presidential elections of the African confederation (CAF), something Josimar reported in March. Not only did Infantino travel extensively leading up to the elections. It also became known that a plot to topple CAF President Issa Hayatou, who was from the old guard under Sepp Blatter and not so servile to Infantino's instructions, was hatched already during the Mexico Congress in 2016. The perfect puppet was Ahmed Ahmed from Madagascar, a man who had not distinguished himself before he out of the blue launched himself as a candidate. In fact, Ahmad's only claim to fame had been to ask for a bribe from Mohammed Bin Hammam to vote for Qatar as World Cup host in 2022. In a leaked email exchange published by The Sunday Times, Ahmad asked for money to fund his re-election as president of the Madagascan FA. In the exchange it was agreed that the money should be delivered through a bagman in Paris. It was never proven that Ahmad received the money, and the Malagasy have since avoided to clarify on the allegations.
Not that Infantino cared as he travelled across the African continent to lobby for him. Most infamously, the FIFA President attended the birthday party of Philip Chiyangwa, Ahmed Ahmed's campaign manager, head of the Zimbabwean FA and a member of Robert Mugabe's inner circle. At the same party several African FA presidents were present, something which made CAF's Secretary General formally cry foul play. Ahmad won by a landslide in Addis Ababa, much in the same way Čeferin had the year before in Athens. Both came from nowhere before one federation after another joined the bandwagon and offered their support. After the election, Philip Chiyangwa boasted to the local press that his birthday party had in reality been a gathering to plot Hayatou's downfall.
The greek connection
When Gianni Infantino hired Kjetil Siem last June to become his strategic adviser, the FIFA President told the the Norwegian FA in an interview published on their website, that Siem would be vital in the organization's reform-process. But when Josimar revealed the plot to get Čeferin elected for UEFA President, Siem was swiftly and quietly removed from his influential position. He is now working on digital strategies in another department.
According to our sources within UEFA and FIFA, Infantino surrounds himself with yes-people and keeps only a small circle of confidants. The most trusted confidante is Theodore Theodoridis, the now Secretary General of UEFA.
"They have been very close for many years. When Gianni Infantino seeks advice, Theodoridis is his consigliere," the sources tell Josimar. This mutual trust between Theodoridis and Infantino was most visible when Greek football was paralyzed by fan disturbances and rampant match fixing. The scandal which surfaced in 2011 eventually forced the government to halt league football in the country. It emerged that Olympiakos' President and owner Vangelis Marinakis was pulling the strings of a match fixing organization. Theodore Theodoridis, the son of Olympiakos' former vice president Savvas Theodoridis, was at the time the deputy Secretary General of UEFA under Michel Platini, and is now the Secretary General proper under Aleksander Čeferin. And in November last year, FIFA hired Olympiakos' former head of legal affairs for nine years, Theodore Giannikos, to be head of FIFA's member associations department. He has avoided criminal charges, unlike Marinakis and several other Olympiakos officials in Greece, but it's hard to imagine he had no inkling of what was going on at the club. The same goes for Theodoridis and Infantino. When the Greek government took action against Olympiakos, Infantino threatened to ban Greek teams from international football because of government intervention.
Government intervention didn't seem to bother the FIFA President in the leadup to the congress in Bahrain, however, as Israel's prime minister Benjamin Netanyahu called him to make Infantino drop the dispute of Israeli football teams playing on Palestinian ground from the congress agenda. Netanyahu's argument? That politics shouldn't go into football. And in the end the FIFA Congress decided to postpone the issue, despite the fact that it was the fifth time the Palestinians had brought it up. A decision, Infantino promised, will be taken at a FIFA Council meeting in September.
Quiet storm
But by far the most controversial incidence during the congress was the removal of the chairmen of the Ethics Committee. It had long been rumoured that a renewal of a four-year mandate was in jeopardy, especially since the committee had investigated the FIFA President once, and allegedly again, for interfering in the CAF elections. But three weeks before the congress in Bahrain FIFA's Secretary General Fatma Samoura seemingly put cold water on such speculations; "I do not understand how such rumours arise," Samoura told the Swiss' newspaper Tages Anziger. And Ethics chairmen Cornel Borbély and Hans-Joachim Eckert must have been confident that their mandate was to be renewed as they boarded the plane headed for Manama in Bahrain. Little did they know that their fate was sealed while they were in flight. Borbély and Eckert first knew that the FIFA Council had decided to remove them through news articles as they turned their cell phones back on upon landing in Bahrain.  They subsequently called for a hastily arranged press conference. "The ethics commission is the key institution of the FIFA reforms. As it seems now, the work of the ethics committee was inconvenient for functionaries, for FIFA officials. The removal is not in FIFA's best interests… and it's a setback for the fight against corruption. FIFA's code of ethics is a dead letter.", Borbély lamented while adding that "hundreds of ongoing cases" would now be delayed.
German FA President and FIFA Council member Reinhard Grindel stated that the move against the Chairmen of Ethics Committee was the initiative of FIFA President. "I said in the meeting that we were satisfied with the work of both [Borbély and Eckert] and I asked because the Secretary General  [Samoura] made a statement in the media that they will support both, so it is very much the decision of the president [Infantino]. And you will have to ask him why he made it. I want to clearly say that I would have wished that the process of formation of the individual committees – ethics, governance and disciplinary – would have been more transparent".
Just as controversial was the removal of Miguel Maduro as Chairman of the Governance Committee. Appointed by Infantino last year to much fanfare, Maduro had overseen the eligibility checks on FIFA Council candidates, and barred Russia's deputy Prime Minister Vitaly Mutko because of conflict of interest. Maduro also blocked another powerful player when Kuwait's Sheik Ahmad Al Sabah popped up in the US Department of Justice's latest indictments as a co-conspirator. Ahmad wasn't named in the indictment, but the was no doubt he was the one mentioned. This made Maduro ask Ahmad to undergo another eligibility check to run as FIFA Council candidate from the Asian confederation. Sheik Ahmad promptly resigned his candidacy. After knowing he would not continue his job as Chairman of the Governance Committee after just eight months in the position, Maduro admitted to the website Bloomberg that he had been under significant pressure from high-ranking FIFA officials before taking the decisions against Mutko and Sheik Ahmad. Another member of the committee, a law school professor from New York, Joseph Weiler, resigned in protest. Maduro was subsequently offered a position at UEFA, who are implementing their own ethics and governance departments, but declined. "I appreciate the recognition of my work …. but could never accept it," Maduro told Insideworldfootball by email.
"During my very short tenure at FIFA, one of the things I argued for, unfortunately unsuccessfully, was for the establishment of cooling off periods for former FIFA officials, in particular those holding independent positions. Even if my period at FIFA was extremely short I still believe that a minimum cooling off period would always be appropriate." It is widely believed that barring Mutko was the catalyst to remove Maduro.
Infantino's alternative truth
Gianni Infantino brushed off any criticism during the congress. "Where were all these self-proclaimed good governance and compliance gurus who were supposed to control FIFA when all this was happening? They all miserably failed. It's not me saying it. It's the facts saying it. We will not accept any good governance lesson from any of these individuals who have miserably failed in protecting football, protecting FIFA, and in protecting football from FIFA.
We are rebuilding FIFA's reputation after all that happened, we have taken over an organisation which was at its deepest point. If there is anyone who is in the room who thinks he can abuse football and enrich himself – I have one message: leave. Leave football now. We don't want you.", the FIFA president told the congress assembly.
The Swiss-Italian never clarified that it was himself who had removed all the 'gurus', either by dismissing them, or by taking away their independence. The only one untouched is Tomaz Vesel as the chairman of the Audit and Compliance Committee. Infantino said that the decision to replace Borbély, Eckert and Maduro was made at Tuesday's FIFA Council meeting. But this doesn't seem to be correct. Borbély's replacement, the Colombian State Council President María Claudia Rojas, said she was contacted by Infantino over the phone in mid April, and then met up with him at the CONMEBOL Congress in Chile on 25 April. "There I had a chat with him along with his assistant and the President of the Colombian FA, and he told me he wanted experienced people with a high level of integrity to help FIFA's image recover after the corruption scandals. At the end, he told me we had to wait and see at the congress in Bahrain".