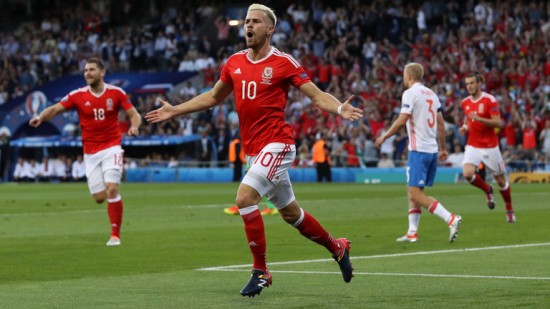 Tekst Sasa Ibrulj
This was supposed to be the early Monday morning blog. Just like I was supposed to be on the early Monday morning flight from Lyon to Toulouse. But, Air France. Got an email saying the flight is canceled, went panicking, got an email with rebooking to other flight, then that flight was moved again. Lovely.
This was also supposed to be a blog on Albania. And was supposed to call Albanians the loudest and the most emotional nation in this tournament. But, then I stopped writing and went to see Wales.
Now this is a blog about Albanians and Wales – two nations that celebrated goals the loudest and with the most emotions.
I've been at quite few stadiums in all around Europe – just tonight I've counted Toulouse as 90th – and I've witnessed all kind of goal celebrations – including the ones that involved teams that I support – but I've never seen so much emotions like in last two nights.
When Armando Sadiku steered a perfect Ledian Memushaj's cross in to the net, heading the ball behind Romanian keeper, he did not just put his name in the history books; he pushed the whole nation in to complete delirium.
For Albanians it was more than just the first goal at the major tournaments. It was more than just the first win at the major tournaments. Much more than a chance to, with some luck, advance to the next round. And it was much more than simple footballing sensation. For Albanians this meant that they've put their name on the world map.
«This is the biggest thing in our history», said Ermal Kuka, Albanian journalist who joined our car ride to their first match against Switzerland in Lens. I wanted to correct him, to add a sporting to word history, but he stopped me. «No, not sporting history. Our whole history; the modern history of our country. Qualifying for the European championship is the biggest thing ever».
I laughed, partly because I did not believe him. Albania is beautiful country and it has a rich and eventful history and I couldn't believe that anything related with a simple game of football could be that important.
Obviously, even in the qualifiers – not just the last one but before as well – you could see how emotional and dedicated to the team Albanian people are. After all, they are probably the only set of fans that directly won their team three points; what was supposed to be a provocation for the Serbs in Belgrade turned in to a big brawl that led to CAS awarding Albania with three points. It may not be nice, but it got them the decisive points!
There were tens of thousands of them in Lens and Marseille and streets of Lyon were covered in red as well, but it was not before that moment that you could feel it for real. When the ball hit that net it launched an explosion of the emotions like no one before them on this tournament. They may even end up as one of two worst third-placed teams, but it was never about advancing to the next round; it was much more than that.
But, just 24 hours later we had a privilege to be at another great party. On the pitch it was the biggest mismatch of this tournament; Gareth Bale, with Ramsey and Allen behind his back, battered Russian center-backs that – combined, of course – are 70 years old. If it wasn't for Akinfeev, it could easily finish 5 or 6 to nothing to Wales. Bale was just too fast and too witty for them and this was always destined to be a great night for Cymru.
Same explosion of emotions, same passion, same joy. For the first time in the history Wales will play in the knockout stages of European championship, but for them this was – same as for Albanians – much more. It was the sign of return to that same map. The team that struggled at the opening of the qualifying campaign in Andorra destroyed Russia and won the group;
Almost half an hour after the match was finished the Welsh fans were still on the stands, celebrating the big win. Let's go fucking mental was echoing Toulouse. This is going to be a crazy night for them, but the other one – in Paris – is yet to be.