He may preach good governance and transparency, but after a year as UEFA president, a pattern has emerged: Aleksander Čeferin has a relaxed relationship with facts and rules.
By Håvard Melnæs and Pål Ødegård
Tomorrow the 55 presidents of Europe's national football associations will meet in Geneva, Switzerland for the 13th extraordinary UEFA congress. We can expect 55 middle-aged men grinning, shaking hands and congratulating themselves with a job well done. On the surface their show is running pretty smoothly, despite the fact that their two previous presidents involuntary had to leave their positions.
Michel Platini was excluded from football for "financial wrongdoing" after it was revealed that he had received 2 million dollars from former FIFA president Sepp Blatter in 2011 as back payment for an advisory role he had for the Swiss in years from 1998 till 2002.
Ángel María Villar, in capacity as then vice president replaced Platini when he was forced to resign and until Aleksander Čeferin was elected new UEFA president in September last year, will miss his first congress in years after serving as the Spanish FA's president since 1988 and being the vice president of UEFA since 2002. Spanish police arrested him in July on embezzlement, corruption and fraudulence charges. At the FIFA congress two months earlier in Bahrain in May, president Gianni Infantino told the audience:
"If there is anyone in this room […] that still thinks that he can enrich himself, that he can abuse football, I have one, clear and strong message to tell him: Leave. Leave football. And leave football now. We don't want you."
Amongst the men not paying any attention to these remarks, was Infantino's vice president. Ángel Maria Villar.
Out of the blue
Before anyone had launched their candidacy to become the new UEFA president, the football associations of Sweden, Norway, Denmark and Finland came out with public support of Aleksander Čeferin. This was an unusual move by the Nordic countries, but it was no coincidence. For pledging their support to Čeferin, the Nordic countries were promised the right to host the European Championship in either 2024 or 2028, if they decided to submit a bid for the tournament. Karl-Erik Nilsson, president of the Swedish football association, was guaranteed the vice presidency of UEFA.
Yet it seemed implausible that Čeferin stood any chance under normal circumstances. To reach such lofty heights of power, one had to have a vast network, decades of experience and significant political leverage.
This was something the other two candidates, Michael van Praag and Ángel María Villar Llona possesed. Van Praag had age against him, but was seen as a clean candidate. Villar was no such thing, as his recent arrest for corruption in Spain demonstrated, but was the acting president of UEFA and had strong connections within FIFA where he headed the legal committee. While van Praag had a solid reform program, Villar had the influence. Or so most pundits thought. Čeferin apparently had none of these attributes. He didn't even have a manifesto until a month before the election. But it quickly turned out that some influential members of international football politics was campaigning for the Slovenian in the shadows.
A week after the Nordic support, thirteen countries from Eastern Europe fronted by Russia also backed Čeferin candidacy. According to sources it was deliberate that the Nordic countries came out first to give credibility to Čeferin. In reality, it was a plan for Eastern Europe, and Russia especially, to gain significant influence in UEFA.
It's unlikely that the Nordic countries will submit a bid for the Euros, but at the UEFA congress in Helsinki in April, Nilsson became the new vice president of UEFA.
Russian roulette
The main issue on the agenda at the congress in Geneva is to elect a new European member to sit on the FIFA council. It's well documented that Vitaly Mutko played a pivotal role in the Russian state doping program, which rates amongst the biggest scandals in the history of sport. The devastating McLaren report claimed that more than 1,000 Russian athletes had benefited from state-sponsored doping between 2011 and 2015. Despite this, it's likely that every European nation represented in Geneva will dance the kalinka.
Vitaly Mutko and the Russian Football Union has nominated Alexey Sorokin, chairman of the World Cup 2018 in Russia, to be his replacement.
Each of UEFA's member associations, all 55 of them, can nominate a candidate for the vacant European seat on the FIFA council. So, how many candidates are up for the FIFA council membership at UEFA congress?
One. Mutko's man.

We asked Terje Svendsen, president of the Norwegian FA, if it was a democratic problem that the UEFA congress only had one candidate to choose from.
"Maybe it isn't that attractive to be a part of the FIFA council," he offered as an explanation.
On Čeferin's first year, Svendsen is impressed, saying:
"I hope he continues in the same way, focusing on important issues such as good governance."
State of play
Alexey Sorokin has been chief executive of the local organizing committee of Russia 2018 World Cup and was elected to the executive board of the Russian football federation June this year to boost his chances of getting elected to the FIFA council. If you've heard his name before it might be for his statements on doping and conditions for foreign workers building World Cup stadiums. When a report published by professor Richard McLaren last year showed that at least 34 professional footballers were part of Russia's state-sponsored doping programme, something FIFA have confirmed they are investigating, Sorokin dismissed it with "It's very bizarre this is appearing now – it's clear it's made-up news. We have received confirmation from FIFA that the players have been tested pre- and post-match and all results have been negative. Most of the players play regularly in European competitions with their clubs and, in general, there hasn't been a positive test in Russian football for many years. So we don't consider this to be a serious matter and it's very strange that it's in the papers."
And during this year's Confederations Cup, Sorokin also denied any abuse of migrant workers, although it has been well documented by Josimar and Human Rights Watch and confirmed by the FIFA president. The soon-to-be FIFA council member has spent his adult life serving the Russians state and the country's foreign ministry. He worked at the Russian embassy in Washington DC in his twenties, and got involved with the Russian football federation at the same time as the country decided to bid to host the World Cup. According to a series of articles published by Norwegian newssite Nettavisen and Danish newspaper Ekstra Bladet earlier this year, Sorokin also has links to FSB, the intelligence agency that succeeded KGB, which Vladimir Putin headed before he became Russia's head of state. This is the man UEFA has chosen to represent them at FIFA's governing committee. The only man for the last vacant spot.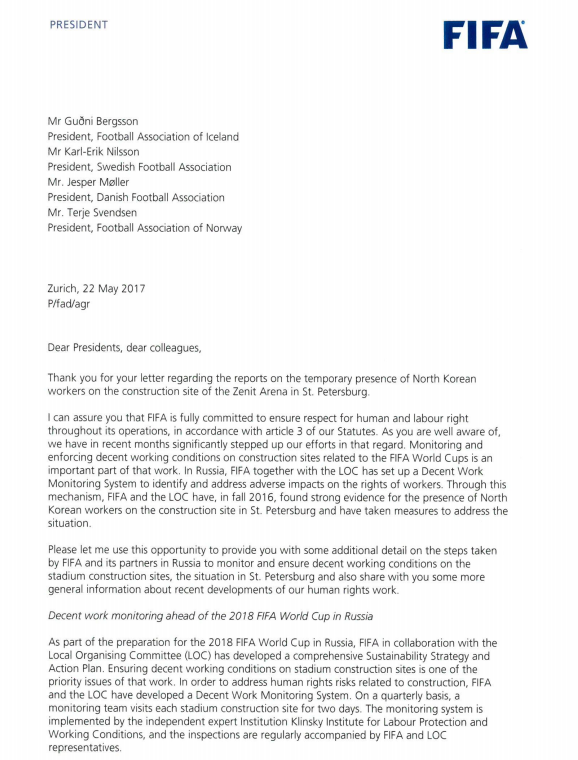 Pulp Fiction
A year has passed since Aleksander Čeferin won by a landslide in Athens to become UEFA president. Before last September few outside his home country knew his name, today he is probably the most powerful man in football in Europe.
He was elected unopposed as president of the Slovenian football association (NZS) in 2011, in an election that reeked of political machinations. The other candidate, Tugo Frajman, withdrew before the vote, citing "dirty campaigning" from Čeferin and his powerful network as the reason.
Let's take a closer look at the football cv of the man responsible for making UEFA great again.
On UEFAs homepage the following is listed as his experience as a football administrator:
He first took a formal interest in local football in 2005 through his work with the executive board of KMN Svea Lesna Litija, one of Slovenia's most successful futsal clubs. A member of the executive committee of amateur side FC Ljubljana Lawyers since 2005, he served as a member at NK Olimpija Ljubljana from 2006-11.   
According to Samantha T. Lovse, club president of KMN Svea Lesna Litija, Čeferin was an active member of the club, but was never a member of the board of directors
Read the first sentence again:
He first took a formal interest in local football in 2005 through his work with the executive board of KMN Svea Lesna Litija.
It doesn't say that Čeferin was an executive board member, however, he had worked with them.
The first half of next sentence – A member of the executive committee of amateur side FC Ljubljana Lawyers since 2005 – is dubious.
FC Ljubljana Lawyers is a Sunday League club, where lawyers come together for football and comradeship. Its web page shows images of Aleksander Čeferin enjoying a beer at a tournament in Alicante. Tomaz Vesel, the independent chairperson of FIFAs audit and compliance committee, also plays for FC Ljubljana Lawyers.
There is no mention of a board on the club's website. And according to the NZS rules, any board experience there would not qualify as adequate credentials to run for president of the Slovenian FA because the team isn't organized under their umbrella.
Part two of the sentence reads:
He served as a member at NK Olimpija Ljubljana from 2006-11.
A member, mind you. Not a board member.
The current UEFA president, became president of the NZS in 2011, despite lacking the necessary credentials. The Slovenian football association rules at the time clearly stated that a candidate for presidency had to have at least 5 years of football boardroom experience.
Before the election, Čeferin submitted four documents to the executive committee of the NZS. There was one from each club, one from NK Olimpija Ljubljana, one from KMN Svea Lesna Litija and one from FC Ljubljana Lawyers. The two first mentioned clubs wrote in a letter to the NZS that they had worked with Čeferin in his capacity as a lawyer, at the same time essentially admitting that he had never been a member of the board. The fourth document is from a private law faculty in Nova Gorica where his brother is a professor, explaining how Čeferin's experiences as legal advisor and attorney for those clubs, qualifies as adequate.
This is how Aleksander Čeferin got started in football politics; by not following the rules.
Back to the USSR
"We didn't know about any inspections, we didn't know about any letters, we didn't know about anything. It was the first time we knew about it, from the media. The first time. Which is strange. We are the biggest confederation, not just the biggest, but we are a confederation, and we should be informed.
"Of course, we have to condemn that. If that happened, it should be solved. And as I read, again in the media unfortunately, it was solved later. That was part of the letter of Gianni Infantino that I read in the media."
In an interview with BBC on June 2nd, Aleksander Čeferin saved no spite towards FIFA's direction for not having informed him about the fact that North Korean workers had worked under appalling conditions at the Russia World Cup 2018 stadium Zenit Arena.
In March this magazine published a report from Zenit Arena in St Petersburg, a venue for next year's FIFA World Cup. It documented that at least 110 North Korean workers lived under horrific conditions while receiving practically no salary, were among those contracted to finish the stadium. As a consequence of the international boycott of North Korea, the regime has in recent years sent more and more workers out of the country. The United Nations suggests this provides North Korea with a yearly income up to 2 billion dollars, other organizations believes the total sum is much higher. This is money which, according to a number of international organisations, helps finance the country's nuclear weapons programme.
The article gained international traction. Probably someone in UEFA also got hold of the news. But apparently not Aleksander Čeferin who, by the way, is the chairman of the organization committee of FIFA competitions, the committee responsible for overseeing the World Cup next summer.
This year's (ordinary) UEFA congress was held in Helsinki on 5 April. Shortly after the congress was wrapped up, Čeferin held a press conference. The Norwegian news site Nettavisen asked him, in his capacity as chairman of the organization committee of FIFA competitions, his opinion about North Korean workers at the World Cup stadium in St Petersburg.
Čeferin's answer was:
"I'm not a chairman of this committee, and I don't know anything about any North Koreans."
A few minutes later in the press conference, Josimar confronted Čeferin with the fact that FIFA had confirmed that he was indeed the chairman of the organization committee of FIFA competitions.
Čeferin was not impressed:
"I've already answered this question."
He then turned to UEFA's chief of press, Pedro Pinto, and said:
"Can we please have some serious questions now?"
Almost two months before Čeferin stated to the BBC that he didn't know about the North Korean workers, he was confronted with the fact in Helsinki. Not only did he deny that he knew anything, he also denied the fact that he is indeed the chairman of the organization committee of FIFA competitions.
As chairman of this committee, Čeferin oversees the World Cup 2018 in Russia.
He also have access to reports from FIFAs human rights advisory board which have made several inspections on the venues for the World Cup.
During an inspection at Zenit Arena back in November 2016, BWI (Building and Wood Worker's International), a member of FIFAs advisory board, discovered  that there were North Koreans working at the stadium. Shouldn't the reports of FIFA advisory board, be acquired reading for the man who is chairing FIFAs World Cup committee?
Apparently not.

Several people who worked with Čeferin at NZS, and who were on his team when campaigning to become UEFA president, are now installed in new jobs at UEFA. Čeferin's right hand man, Ales Zavrl, recently stepped down as secretary general of NZS to start his new job at UEFA's club licensing committee. Former referees Vladimir Sajn and David McDowell Zur are now in the referees committee and the marketing advisory committee respectively. Sajn and McDowell are partners outside football too as they run the instant loan company Mediafin in downtown Ljubljana, which charges 40 percent interest rates, and uses former referees and players as debt collectors. The duo also functions as UEFA match delegates at European cup matches. There is also Ilija Kitic, who was part of Čeferin's campaign team. The former project manager at NZS is now advisor to UEFA's secretary general Theodore Theodoridis.
To Kill a Mockingbird
After Gianni Infantino became FIFA's new president in the wake of the arrests in Zurich in May 2015, and Sepp Blatter had to resign along with Michel Platini for breaching the code of ethics, his first real move was a coup d'etat. At the FIFA congress in Mexico in May last year, Domenico Scala, the then chairman of the governance committee resigned in protest after a proposition that enabled the FIFA council to sack and hire chairpersons of the independent committees as they saw fit, passed through without friction among the FIFA members. It had been snuck into a reform package, and members of the congress hadn't been notified of its significance in advance. A leaked recording from the executive committee meeting leading up the congress vote revealed how FIFA president Infantino argued to remove Scala, with few objections coming from the others present. After Scala left, Infantino assured it was Scala who had 'panicked', and pointed to the chairmen of the ethics committee, who were still there, and assured the full independence of their work to police the organization.
It was not to be.
The ethics committee had already concluded an investigation into Infantino for using private jets, but acquitted him because he hadn't organized the trips himself. It was done by an aide who weren't subject to the code of ethics, and hence Infantino was off the hook. But as earlier reported, the ethics committee investigated the FIFA president again this year after reports of undue meddling in the presidential election in the African confederation (CAF). And according to The Guardian, the same committee had another case open looking into whether Infantino had declared only half of the money he used when campaigning to become FIFA president. The ethics committee could never confirm these investigations, as they're bound by the same code to not reveal anything until a preliminary investigation is concluded, and a prima facie allows for a formal investigation. The chairmen of the ethics committee never got a chance to get that far. At the FIFA congress in Bahrain in May this year, when the FIFA council's mandate to hire and remove chairpersons of the independent committees ended, both were dismissed without prior notice. Cornel Borbély, the former chairman of the ethics committee's investigatory chamber, lambasted in a hastily arranged press conference that "FIFA's reforms after years of corruption scandals had been reversed and 'incapacitated'".
Look the other way
The ethics committee wasn't the only independent committee to get the axe in Bahrain. Perhaps most noteworthy was that the chairman of the governance committee, Miguel Maduro, a former advocate general of the European Court of Justice, didn't get his mandate renewed. This newly set up committee had just been fully functioning since last Christmas, and have the responsibility to oversee if elections followed democratic principles. Central to this was performing eligibility checks of candidates to important positions. The removal of Maduro triggered an exodus from the governance committee as three other independent members resigned in protest; Navi Pillay, former United Nations High Commissioner for Human Rights, Joseph Weiler, professor at the University of New York, and corporate human rights expert Ron Popper.
FIFA argued that they simply wanted to have more diversity in geography and gender in its committees. But as Miguel Maduro under a hearing in the British Parliament last week, where he had been granted immunity to avoid any lawsuit from FIFA for speaking, revealed that he was put under significant pressure to allow Vitaly Mutko to run as a candidate for the FIFA council. Not only by Infantino, who after Maduro didn't budge under the pressure never talked to the Portuguese again. He also revealed a meeting was set up in Brussels where FIFA's secretary general Fatma Samoura brought along the chairman of the audit and compliance committee, Tomaz Vesel, to convince Maduro to look another way with Mutko since it would be 'catastrophic' for FIFA if they fell out with Russia.
"In that meeting, the secretary general made clear that it was extremely problematic. More than that, she said that we needed to find a solution to declare Mr Mutko eligible, otherwise the presidency itself would be in question and the World Cup would be a disaster," Maduro told the MPs in the House of Commons in London.
The odd thing here is that Samoura brought along Tomaz Vesel, who had contacted Maduro earlier the same day to express his discomfort about the reason for the meeting. That may be true, as he hardly talked during the sit down that afternoon.
When asked about the meeting in Brussels, Tomaz Vesel tells Josimar:
"My only comments regarding the meeting in Brussels is that I don't think it was the right thing to do by Mr Maduro to involve the public in sensitive FIFA matters that should be handled internally."
The gender game
Vesel still is a teammate of Aleksander Čeferin's at the Sunday League club Ljubljana Lawyers. He was also a member of the youth committee in the Slovenian FA from 2011 until taking the job to chair the audit and compliance committee at FIFA, something which violated FIFA's Governance Regulations article 5.1 which states that "any chairman or deputy chairman of its independent committees cannot have held any official function at a national or confederation level, including the four years previous to initial term". When Josimar asked FIFA if there were any exceptions to article 5.1, the answer was "none whatsoever". (After Josimar published this information, FIFA threatened this magazine with a lawsuit through one of Norway's most esteemed law firms if the quote wasn't redacted, but never followed up when Josimar refused to do so on the grounds that the quote was genuine.)
At a press conference in Copenhagen shortly before he was elected UEFA president, Aleksander Čeferin admitted that "someone at FIFA" had contacted him regarding the vacant position as chairman of the audit and compliance committee – and that he had suggested Tomaz Vesel.
Officially it was acting chairwoman of the audit and compliance committee, Sindi Mabaso-Koyana, that had put forward Vesel to become her new boss. She has refused to comment whether this is true or not, but it makes one wonder how a South African businesswoman thought of a Slovenian state auditor when looking to fill the position.
Vesel remains as chairman of his committee, despite being a white, European male, contradicting FIFA's argument to replace several independent committee members. Positions in the governance committee have yet to be replaced, breaching another FIFA rule that at least half of the members of the independent committees must be independent, and not members of associations or confederations. But it seems that's just another rule the administrators of the beautiful game gladly overlook when it's inconvenient to follow it.