Or: How to trick the world into believing it can stop worrying about Qatar's migrant workers.
Written by Håvard Melnæs
Photography Faiz Abu Rmeleh
14 kilometres outside Doha, in a flat and hazy desert landscape, lies Labor City, one of Qatar 2022's prestige projects. Only a few years ago, there was hardly anything but sand here; now, a new «city» that that can host up to 100 000 people sits on a roughly 1 000 000 square metres large patch of land. On November 1st, 2015, when prime minister Abdullah bin Nasser bin Khalifa al Thani cut the ribbons at Labor City's official opening, the place was teeming with VIPs. We've been in Qatar for nine days and already tried to visit the «city» twice, but on each occasion expertly trained security guards stopped us at the check points along the road. The CCTV cameras are strategically placed and omnipresent. Anyone who wishes to enter the city must display approved access documentation as well as personal ID. On the home page of Barwa, Labor City's main contractor, we can read that "Labor City accommodation is far from a typical worker's residence after a long day at work. It is a true testimony to Qatar's belief in respecting, valuing, and improving the quality of workers' life.» Several members of the Supreme Committee of Delivery & Legacy (SCDL), the organisation responsible for Qatar 2022, have boasted about Labor City and encouraged us to go there.
Once again, we are stopped by security guards, but this time we've got papers with official stamps from the Ministry of the Interior. But are the papers genuine? 20 minutes and several phone calls later we're inside the walls. No less than eight people from the «city administration» are here to welcome us. We're ushered into a conference room, where we will get to see a promotional film which informs us that Labor City contains two mosques (one of them the second-largest in Qatar), two police stations and a clinic, accompanied with images of smiling migrant workers eating in the canteen, playing football or using the internet cafe.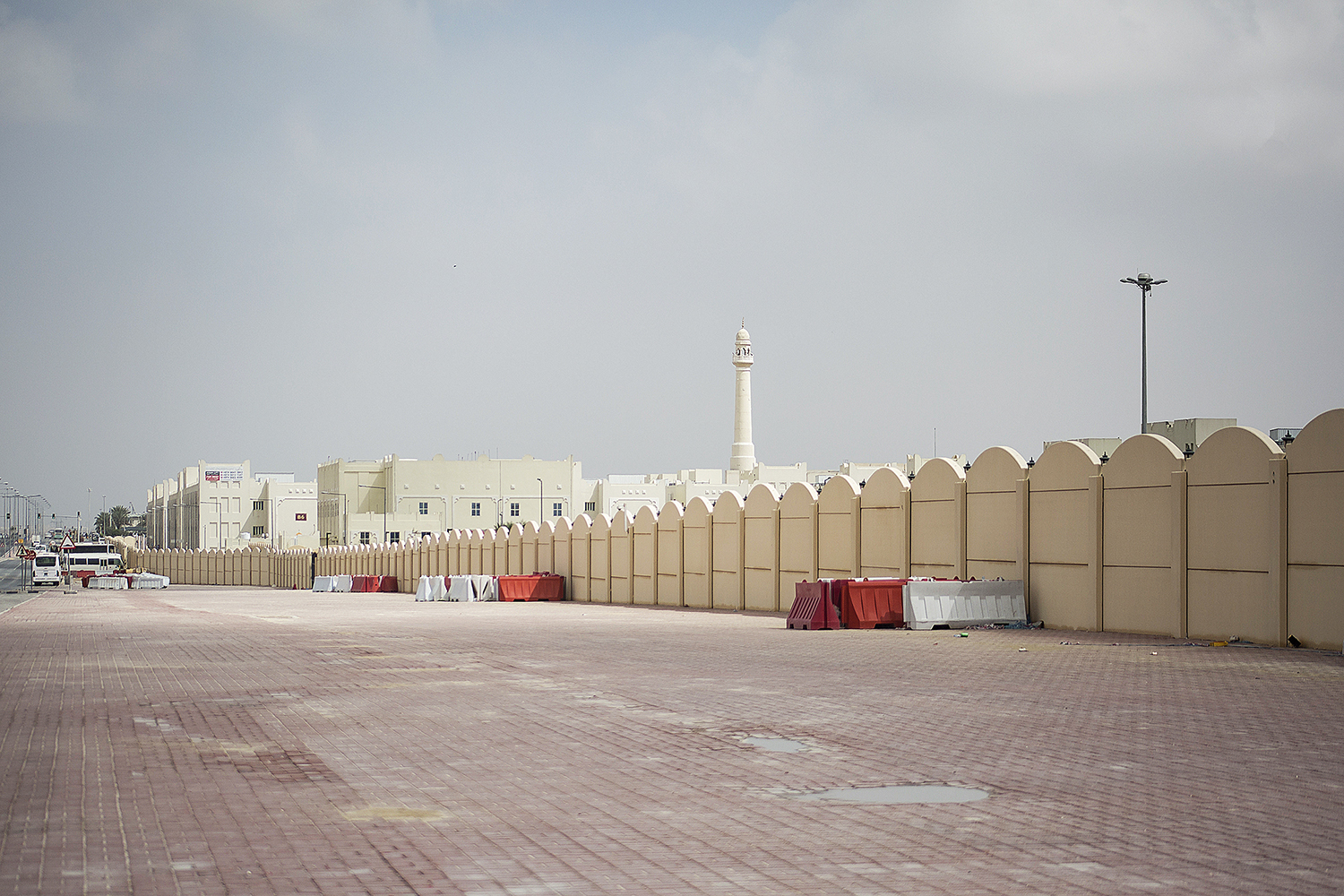 The dogs in Doha
«Welcome to Labor City. I hope you enjoyed the film. My name is Ahmad, I'm the supervisor here and will be your host today. If you have any wishes, do not hesitate to tell me.»
A Qatari representing the Ministry of the Interior is also present. He is a man of few words, who rarely lifts his gaze from his mobile phone. «Thank you for allowing us to visit», I say. «We will probably spend some hours here. We're looking forward to talk to the labourers, and to those who work at the police stations and the clinic.» Ahmad worriedly looks at the others and switches from English to Arabic. «We can't let this journalist wander around here freely. That would be too big a risk. We haven't prepared the clinic workers or the police about what they should tell him. We can't just let him speak to the workers. If he does speak to them and this gets published, we could get into real trouble.» Exasperated, another member of the group replies: «I don't understand why he wants to speak to the workers. After all, we can tell him all he needs to know.»
Before leaving for Qatar, I had foreseen problems of this kind. That's one of the reasons I hired Faiz to be my photographer. Not only is he good company, brave and and an excellent photographer; as a Palestinian he's also fluent in Arabic.
Returning to English, Ahmad excuses himself: He needs to make some phone calls to check if it's OK for us to walk about Labor City freely and talk to whom we might wish, he says. Ten minutes later, he's back: «I'm sorry», he says, «I did everything I could to get you permission, but it was impossible at such short notice. If you have questions, just ask me.»
Why is the entire "city" surrounded by four metres tall concrete walls and checkpoints?
«For security reasons, to protect the workers against dogs with rabies.»
Wow. Are dogs with rabies a big problem here?
«No, no, no! You misunderstand, this is just like living in Doha. But it's different people who live in Doha, people with families. Here, the workers can come and leave as they wish, there are no restrictions.»
Unlike other cities, you can't visit this one without prior notice?
«Of course not. Our job is to protect the workers. But if they wish to receive visitors, they may do so. You only have to fill in a couple of forms, and it will be OK.»
The security guards seem well-trained. I tried to get into the city a few days ago, but was firmly rebuffed at the checkpoint.
«Yes, we do our utmost to ensure the safety of our workers.»
With walls, checkpoints and surveillance cameras?
«Yes. The CCTV cameras are very useful. When incidents occur, we get a complete overview from the cameras.»
Can there ever be too much surveillance?
«We have no cameras in the toilets or the bedrooms.»
What are your greatest challenges, and the greatest challenges for the workers?
«We have no major challenges. There may be minor things such as an untidy rooms and maintenance. This is a city like any other in the world», Ahmad repeats.
We drive slowly around the «city». The photographer snaps photos while I talk to workers on their way in and out. At one of the checkpoints, a security guard comes over and says hello. I ask him about life in Labor City.
«You know, I have no choice. I have to be here. I'd much rather be at home with my family in Nepal. But they depend on the money I send them.»
Over the past seven years, he's been home to see his wife and their two daughters twice. I tell him the «city» reminds me of a prison. He says he feels like a prison guard. Faiz, the photographer, asks some Bangladeshi workers sitting on the pavement, if he may take pictures of them. As they agree to the request, a sports car brakes heavily and a Qatari emerges, screaming as he moves towards us.
«Guards, guards, guards!»
It's hard to understand what he's yelling, but eventually we comprehend his words.
«Do you have permission from the Ministry of the Interior? Guards, guards, guards!»
When we explain that we have been granted permission by the Labor City management to take photos outside, he calms down. But he will not allow us to move on until he has personally spoken to the supervisor on the phone.
Even better than Labor City
When Labor City opened its gates three years ago, the «city» had the very best facilities Qatar could offer its migrant workers. Now, however, SCDL has, according to themselves, secured something purportedly even better for some of their stadium workers. The «best» and most modern labour camp is called Challenger City, has a capacity of 6000 inhabitants and is located in the Shahaniya district an hour's drive from Doha. We have been invited for a tour of the facilities, accompanied by two SCDL employees, «Heinz», a German, and his South African colleague «Erwin». At noon, the place is almost void of people. Most are away at work, while those who have worked the night shift, are soundly asleep in their beds. Like at Labor City, we are denied permission to speak to the workers. The SCDL employees assure us that we'll get to talk to workers later, at Lusail Stadium. We are informed that the people who live here, are mainly workers at Al Rayyan Stadium, plus some who work for Qatar Rail and Qatar Petroleum. «Erwin» explains that before a sub-contractor can be approved, the SCDL always assesses the standard of accomodation offered to the workers, and also whether the recruitment process has been ethically responsible, that the workers have not had to pay large fees to recruitment agents in their country of origin in order to secure the job. «Erwin» works in the Workers Welfare Department of the SCDL, and time and again underlines how important it is to them that the workers are treated properly. At Challenger City, the workers have access to a clinic with a doctor and several nurses, an internet café, a fitness centre, a hairdresser's, and a grocery store.
I interrupt «Erwin»'s presentation with a question:
If the African stadium workers have paid large fees in order to come here and work, will that money be refunded?
«Håvard, I'm sorry to interrupt», «Heinz» says, «but 'Erwin' is speaking off the record. Mahmoud is our spokesman. Any information you receive here, you may print, but not as quotes. Regarding ethical recruitment, I feel Mahmoud informed you thoroughly about this.»
«Erwin» says that if any of the African workers can produce a receipt which proves they have paid a doctor in their home country in order to obtain a medical certificate, that money will be refunded. I repeat my question about whether money the workers have paid to recruitment agents in their home countries will be refunded. «Erwin» says that the SCDL are aware that some of the workers have paid quite large recruitment fees, and that companies who hire workers through recruitment agents who demand money from the workers, will be blacklisted. «Have the SCDL introduced a minimum wage?», I ask. «Erwin» says the minimum wage depends on what kind of work you do. «The minimum wage in Qatar is very low», I reply. «Heinz» interrupts again and says this is a question which «Erwin» may not answer.
«OK, let me ask you another question», I say. "Why is Challenger City surrounded by concrete walls and why do you have checkpoints? What's the thought behind this?»
«We have many trucks and cars that go in and out. Some deliver food, other collect garbage. We must control who and what enters the city. The checkpoints are not there to control those who work here.»
Garbage is collected and food delivered in Doha, too, yet in Doha, there are no walls or checkpoints.
«Let me give you a good example. If we don't know who enters this place, lots of people could turn up at dinner time to eat here. Those who live here, can come and go as they wish. But if we don't have control over who enters and leaves, people who don't belong here might eat the food meant for hungry workers returning from work.»
«All over the world, people living in houses have fences around the house. Why? To show that this is my property. If you go to London, or anywhere else, you will see houses with fences. If we didn't have the wall, what would happen to all the food? People could get in here and eat it! Besides, the walls are here to secure safety for the workers. If someone broke into one of the workers' lockers, what would I tell him? That I'm not looking after his safety? That I'm not protecting him from dangers on the outside? So the walls are there first and foremost for safety reasons.»
Later we're shown around the area. Soon, «Heinz» and «Erwin» will give us a lift to Lusail Stadium, a few kilometres outside Doha. «And there, you'll get to talk to the workers.»
The grateful seven
Both the opening game and the final of the 2022 World Cup will, according to plan, be played in front of 86 500 people at Lusail Iconic Stadium. As of spring 2018, parts of its foundations are in place, but a lot of work remains to be done. All year and around the clock, thousands of migrant workers will be at work on the gigantic construction site. Outside the stadium area, too, there's hectic building activity. Only a few years ago, there was nothing but desert here, but Lusail is not only the name of a football stadium, it's also the name of a brand new city which will offer living space for a quarter of a million people.
«Erwin» parks next to a provisional office building right beside the construction site. Here, with the blessing of the SCDL, we will get to meet some of those working at the site. Paul Hughes, a Scot working as a communication expert for SCDL's Workers Welfare departement, has already been here for several hours to prepare the workers for our visit. A welfare officer welcomes us and soon launches into a monologue about all the measures that have already been made. He's clearly nervous. Each time he finishes a line of reasoning, he looks anxiously over at the three representatives from his employer («Erwin», «Heinz», and Paul). Did I give the right answer?, his eyes seem to ask.
The welfare officer explains that up to 3400 workers are active on the site during the day, while the night shift consists of 550 people. Most of the workers come from India, Bangladesh, Nepal, Sri Lanka and Kenya. They can choose between various dishes for dinner and have the right to a three-week holiday every year. The site's two main contractors are the China Railway Construction Corporation Limited and the Qatar-owned HBK Contracting Co. W.L.L. The welfare officer is evidently proud when he points out that the construction site received 100 points out of a possible 100  in a rating by an auditing firm. When he has finished his routine, it's time to meet some of those who build the arenas for what will be the most expensive sporting event of all time. (Qatar 2022 has a budget of 220 billion US dollars.)
«Just one thing», I say. «Before the workers arrive, I request that those of you employed by SCDL leave the room.»
«No, we can't do that», says Paul Hughes. «I'm not going to interrupt you, but I'm sure we're not the first PR people you've met and we have a job to do, too. It wouldn't be fair on the workers to leave them alone with you.»
I reply that one can't expect sincere answers from workers when representatives of their all-powerful employer are present in the same room.
«You know us, we're completely open and transparent, but my job is to be present here», Hughes says.
«The two of us could leave», offer «Heinz» and «Erwin».
«For me, it doesn't matter at all whether it's all three of you or just one. I don't want any of you in here», I say.
«Listen», says Paul Hughes. «I must look after the interests of the workers. If you ask a question and the answer reveals that something is amiss, maybe a misunderstanding or maybe a problem we're not aware of, then we will be able to do something about it immediately. In which case we'll be grateful to you for bringing the issue to our attention. And don't worry, the workers have been told to be completely open and honest.»
The workers enter the room. «Heinz» and «Erwin» get up and leave. Paul Hughes remains seated. Hughes and I both have pressed the record button on our dictaphones. I ask each worker individually if he's happy in his job and in Qatar.
The first, the second and the third worker are all pleased to be here.
«I'm very happy», replies the fourth worker. He tells me that he sends 1400 riyals (about 345 US Dollars) a month to his family back home in Bangladesh, keeping only 100 riyals of his salary for himself. «I can do this because food and accomodation is covered by my employer», he says.
The next two workers also say they're happy here, and when I ask the seventh and last the very same question, they all laugh. «Yes, sir, I'm also very happy to be here», number seven says. Paul Hughes, however, seems less than pleased. He asks me if it wouldn't be better if I interviewed them one by one (with himself still present, of course). I reject his offer. «I have what I need,» I reply. «Thanks for your help.»
One of the workers suddenly informs me that he has built a house back in India for the money he's earned working in Qatar over the past ten years. «His effort, with blood and sweat, has given him and his family a pleasant home, comfortable and peaceful,» the welfare officer says. «What he's trying to say is that he's grateful to Qatar and the company he works for, as they've given him the opportunity to build a house back home.»
My meeting with Mahmoud
This was not my first encounter with World Cup workers in Qatar. I had already been here for ten days, driving from one labour camp to the next. Most were in a dilapidated state and more reminiscent of refugee camps than permanent settlements. Journalists are not allowed to spend time in the camps. It is possible to request permission through the Ministry of the Interior, but the probability of being granted unaccompanied admission is zero. Private security companies and both plainclothes and uniformed police are heavily present, to prevent unauthorised persons from venturing inside the walls (the police force and the military are also largely comprised of migrant workers, mainly from Pakistan and Sudan).  
Several of the labour camps we only managed to see from the outside, guards curtly preventing our entrance. Nevertheless, we managed to sneak into about half of them, either due to lax security or thanks to malleable security guards. I spent several days inside the giant labour camp in Shahaniya, which adjoins the sterile pride of Challenger City.
The Supreme Committee of Delivery & Legacy have their headquarters in a state-of-the-art high-rise on West Bay. «Heinz» meets us in the reception and we take the elevator to the 30th floor. In a corner office, Mahmoud Qutub, a Palestinian with an American passport, welcomes us, extending his hand. He is head of the SCDL's Workers Welfare Department. It's his responsibility to ensure that thousands stadium workers are treated properly. Paul Hughes and another person from the Department of Communications are also present, as is «Heinz» and my photographer, Faiz.
Mahmoud Qutub speaks enthusiastically. He informs us that he's been working for the SCDL since 2009, that he was person number 30 to be employed by the Committee and that his job in relation to the World Cup bid was about the socio-economic legacy of Qatar 2022. He explains that around all the new stadia, new neighbourhoods are also being built, and that the post-World Cup redevelopment of the arenas has been important since day one; One stadium will be turned into a mosque, another will become a facility for wedding ceremonies, and so on. «The workers are imperative to Qatar, and always have been. They build the infrastructure and the stadia. The authorities have seen that things must be done to ensure the welfare of the workers and have built new accomodation facilities. For example Labor City, where 100 000 people can live. Have you visited Labor City?» he asks.
«I've been granted permission to visit in a couple of days.»
«Good. You must also visit our own facilities, such as Challenger City.»
«I'm going there on Tuesday.»
«You will observe that it is clean and new and has all mod cons. It's a place which quite obviously can be called 'a home away from home'. Also, Håvard, at an early point we committed ourselves to being as open and transparent as possible. All our employees get to keep their passports. If a contractor on any of our stadium projects keeps hold of the workers' passports, they will lose their contract. It has been that way since 2016. As for the standard of housing, we have been hard at work on this issue, and a lot of facilities are now in place.»
Does the World Cup and the SCDL contribute in improving the rights of migrant workers in Qatar?
«Good question! We have been concerned about this issue since December 2010. And this is not empty rhetoric, we are very, very dedicated.»
How can you know for sure that the workers aren't being exploited?
«Let's be honest, Håvard. We have had some challenges along the way. But now we have a system in place where we can monitor all the stadium workers, so that they do not work too long hours, for example», Qutub says.
During our hour-long conversation, he keeps checking his mobile phone, particularly after I've asked him a question. After the meeting, Faiz tells me that the three men from the Department of Communications had a chat group where they kept sending messages to each other and to Mahmoud Qutub.
Two weeks after the interview, the AP news agency revealed that several stadium workers in Qatar had been at work for more than 100 consecutive days. And recently the German news organisation Deutsche Welle published a report establishing that dozens of workers at the Education City Stadium worked all day long during summer. Between 11:30 a.m. and 3 p.m. are hours designated as a rest period by the state of Qatar between June 15 and August 31. Many experts argue there should not be any work during the day in the harsh summers, when temperatures can rise to 50 Celsius (120F).
The Workers Cup
On a stiflingly hot Saturday morning, the Workers Cup's round of 32 is about to begin. The tournament has the same format as the World Cup, but there are no professional multi-millionaires playing here. This is a competition for workers. This morning, four games will take place on two adjacent pitches. Even though it's winter (February), the games must be played in the morning. During the afternoon, it's simply too hot to play football. The Workers Cup has been held annually since 2013, and for the players, it's a welcome break from the monotony of their daily lives. I'm sitting next to «Gary», an Australian, on a bench next to one of the goals. He's here as a coordinator from the SCDL.
There's no doubt that the players take the tournament seriously. The full range of human emotion is displayed in front of us. The losers weep, the winners shed tears of joy.
After the first game, something strange happens. Nearly all the players come over to the bench where «Gary» and I sit, and form a line to snap selfies with Gary and me. Is it because I am white? Is it because I'm sat next to an «important person». Is it because this society is built on a culture where servants are expected to show reverence to their masters? I have no idea, and I feel anxious about asking them why they want to be photographed alongside a quite ordinary man from Askim, Norway.
Later, I meet Wilson from Kenya, who works for Nakheel Landscapes, who eventually won the tournament. Wilson doesn't play himself, but was an active member of the loud gang of supporters on the sidelines. «I live in Labor City,» he tells me, «and it's the best labour camp I've lived in here. But it's still depressing. We live like animals in a cage. There's only one thing here for us to do, and that's work. Once, some of my workmates and I tried to go to the souq (a market in the old town of Doha), but we were stopped by plainclothes police. I think most people who know me, would say I'm a positive guy, but it's not easy. Back home, I couldn't find a job, and without money, life's hard. But at home, I could feel freedom, I could play football with my mates, flirt with girls, you know what I mean? Here, I can do nothing but work. I lay asphalt, which is hard work in this heat. I work and sleep. That's all. I was promised a better life here, but that hasn't happened. What's happened, is that I have no life. I'm depressed at times, I close myself off from the world and lose all hope. What's the point of living this way? When I first came here, I'd sometimes dream bright dreams about the future. But those dreams have vanished.»
Over at the other pitch, we meet Benny from Uganda.
«We were promised so many things before we came here, things that haven't happened. I live in one of the worst areas. In Shahaniya. Have you been there?»
«Yes.»
«Then you know what I'm talking about. Every day I pray that tomorrow will be better, but when tomorrow comes, things are just like before. We're being treated so poorly. Why can't a country as rich as Qatar take better care of those who build the country? What we're exposed to every single day, is apartheid. Before I came here, I thought apartheid had been eradicated with [its abolition in] South Africa, that it's something which doesn't happen anymore. Now, I know better.»
By the car park next to the football pitches, in the shadow of tall trees, sit six workers from Kenya. They work for a sub-contractor at the stadium in Lusail. «We're being treated like shit by our foreman», one of them says. «If I take a break or go to the toilet, he will scold me, screaming: 'You went to the toilet three hours ago. What's your problem? You're here to work, not to slack off in the toilets'. How can we be spoken to this way? We work six days a week, often more than twelve hours a day. What makes a person treat other people with such little respect?» «I won't take the scoldings,» Wilson says. «Whenever our foreman screams at us, I scream back. We're the ones building that stadium! We're the ones doing the hard work, even when it's fifty degrees outside.»
What do you miss here in Qatar?
«We miss our wives, our children, home-cooked food. We miss having fun. And we miss being treated as equals.»
The workers tell me they paid between 1200 and 1800 US dollars to recruitment agents in their home country. They were promised wages of at least 1200 dollars a month, but they all ended up with a monthly paycheque of between 240 and 360 dollars. «This job was supposed to bring financial security for my wife and children back home,» Wilson says. «Instead, it's made me a debt slave. I've been here for two years and I still owe my recruitment agent more than half the amount I agreed to pay him.»
The game behind the curtains
Qatar has launched a massive campaign to repair its damaged reputation ahead of the World Cup, which is due to be held in November and December 2022 and it has had some help from international trade unions. Barely a year ago, when the Qatari government announced major labour reforms, Sharan Burrow, the general secretary of ITUC, the world's largest trade union, previously perhaps the fiercest of all Qatar's critics, declared this was the beginning of the end for the labour laws that the ITUC had persistently claim  rendered the country's migrant workers slaves. Burrows' statement was quite sensational, for several reasons.
This was far from the first time Qatar had made similar announcements. So how could Burrows feel convinced that this was genuinely the beginning of a process of real reform, which would ensure the country's migrant workers no longer lived under slave-like conditions in an apartheidesque state? How could one of the most powerful union leaders in the world take such an announcement at face value? And has Burrows misrepresented the nature of the reforms? On September 6, Burrows claimed that Qatar's abolition of an exit permit system would ""take the heart out of the kafala system." Experts on the issue denounced this statement as "demonstrably false." Might the answer to Burrows' dramatic change of heart lie in Copenhagen, the city which, in December this year, will host the 4th ITUC World Congress? There, Burrows will seek re-election, and if she can proclaim victory in Qatar, this will be all but secured. After all, who could realistically challenge a leader who's done the impossible – making Qatar treat its migrant workers decently? But is Sharan Burrows' version of events true? "When running for election, the most important thing is to get elected, not whether one's public statements correspond with the truth," one source tells us. The ITUC is not the only organisation to have issued excessive praise that has aided Qatar's PR campaign. Numerous labour rights experts condemned a Human Rights Watch press release issued in January 2018 as containing falsehoods that exaggerated Qatar's progress, including the organisation's former Qatar researcher who left the NGO a few months previously.
It's certainly true that, following massive international pressure, Qatar announcement an impressive set of labour reforms, but very little has actually happened, and the situation on the ground remains dire.
The Pearl of Doha
It's my first day in Qatar, and it's hot, more than 35 degrees. I've asked my driver, Isuru from Sri Lanka, for a tour of Doha and its surroundings. Isuru picks me up outside the hotel in West Bay, an area almost desolate only twenty years ago, but now home to the tallest buildings in the city. Here, the skyscrapers/phallic symbols stand in pretty lines, like monuments to the breathless pace of development that has taken place over the past two decades. Presently, several of the up to 300 metres tall structures are adorned with giant banners depicting a handsome fellow with a moustache. Since Saudi-Arabia, Egypt, The United Arab Emirates and Bahrain cut all diplomatic ties with Qatar in June of last year, a wave of patriotism has swept over the tiny desert state, and pictures of His Royal Highness Emir Tamim bin Hamad Al Thani suddenly appeared everywhere, on buildings, petrol stations, and cars.
Possibly due to the fact that I'm a white man from Western Europe with a Rolex on my wrist, Isuru, who has been working as a driver in Qatar for almost fifteen years, opts for a Venice-inspired area called The Pearl as our first destination. «Ten years ago, there was nothing here, nothing but the sea,» he tells me. In 2004, it was decided to construct an artificial island outside Doha, in the Persian Gulf. Commissioned by Qataris, built, of course, by migrant workers. Ten years later, the first residents could move into the apartment buildings which, in two expanded half-circles, make up the main part of the «island».
Behind the newly cleaned windows of a local car dealership, shiny Rolls Royces stand on display. Samuel, from Uganda, works as a security guard here. He's been working at The Pearl for four years. He says he works ten hours a day, six days a week, and makes 290 US dollars a month. I ask him about life in Qatar. He shrugs. «I have an easy job. It's monotonous and boring. But it's easy. All I do is stand here. Many people have worse jobs than mine.»
Qatar picks up the bill
Qatar is the wealthiest country in the world and probably the only one where all the citizens are rich. Poor Qataris do not exist. This, however, is a fairly recent concept. Until 1971, Qatar was a British protectorate, and its most important sources of income were fisheries and pearl diving. For the past 30 years, the country has made enormous profits from oil and natural gas, which, amongst other things, has led to the development of new urban districts (West Bay), a brand new city (Lusail), and an artificial island (The Pearl). The shopping malls here are so huge they contain anything from amusement parks to snow-covered ski slopes. Thanks to its enormous wealth, the tiny nation has quietly acquired a fairly important position on the global stage. Nobody owns as much property in London as Qatar's national investment fund. In New York, the same fund has spent billions of dollars on attractive properties on Manhattan. Who owns half of Heathrow Airport? Who picks up the bill when the UN needs to digitalise its Dag Hammarskjöld Library?
Qatar wields a considerable amount of soft power, which received a further boost in December 2010, when the country secured the right to host the 2022 FIFA World Cup. The soft power is for external use. In Qatar itself, the vast majority of the population – that is, the migrant workers – are ruled with an iron fist. In a country like Qatar, visiting press is fair game for the authorities. Without official, written permission one can barely interview a single person. In 2015, TV-teams from Danmarks Radio, the Danish state broadcaster, the BBC and Germany's ARD were all arrested, imprisoned and subsequently deported for speaking to migrant workers.
Before leaving home, I conferred with several international security experts. «You must assume they will follow your every step," they said. «Assume your under constant surveillance, both physically and electronically». The Norwegian embassy in Abu Dhabi were also forthright when I informed them of my plans. «I have to say this once more: We warn you against travelling and doing what you say you plan to do. I have worked at various embassies in North Africa and the Middle East for twenty years, and I only scratch my neck when I'm nervous, which is almost never. But now, I'm scratching my neck.»
A daily dose of propaganda
Gulf Times is the largest English-language newspaper in Qatar. More often than not, the paper devotes its front page to happy, positive news about the country's ruling family, the Al Thanis. Usually it's the emir himself who's at the centre of attention, typically posing with other state leaders after having signed yet another bilateral, multi-billion dollar deal. Telegrammes sent around the world by the emir, be they congratulations or condolences, are obviously also front page news. Meanwhile, the country's two million migrant workers are conspicuous by their absence. During my two weeks in Qatar, there were no articles concerning migrant workers in the paper. One day, the front page displayed a picture of the emir together with a certain Nasser Al-Khelaifi on the tribune during the Final of the Qatar Open tennis tournament. Al-Khelaifi is, amongst other things, a government minister without portfolio, chairman and chief executive officer of Qatar-owned Paris Saint-Germain – and under criminal investigation for allegedly having bribed Jérome Valcke, the former general secretary of FIFA. Valcke, a Frenchman, who for years was Sepp Blatter's closest associate, was sacked by world football's governing body due to corruption in 2016.
Throughout my stay, the World Cup organising committee, the SCDL, is persistently eager to find out what I'm up to while in the country. My impression is that they do what they can to prevent me from speaking with workers. They keep offering suggestions as to how I should spend my time.
«You should go to the beaches in the North. They're fantastic.»
«You should go to the beaches in the South. They're fantastic, too.»
«Have you been to the Islamic museum? You don't want to miss out on that.»
«Pierluigi Collina is in Doha now. I can set up an interview. Interested?»
«Fancy meeting Bora Milutinović?»
I feel that I can't reject all the proposals, so I say yes to meeting Milutinović. He's one of two people to have lead five different countries at the World Cup finals (the other is Carlos Alberto Perreira, from Brazil). Bora is a World Cup legend, and now lives in Qatar, where he acts as football adviser for the all-powerful Al-Thanis. I'd like to ask him about that particular assignment. But Bora doesn't want to talk when we meet in a local café. He wants to play chess. He's brought a chess board and insists on playing. I try to ask questions while we play.
What's it like living in Doha?
«Fantastic. This is a peaceful country.»
You're an adviser to the Royal family. What exactly does that entail?
«This is not important to talk about.»
But what does it entail?
«I give advice.»
What kind of advice?
«I tell them. Not you.»
All Bora wanted, was to play chess. After we've played four times (I won three), he hurries off to another meeting.
When death becomes a habit
We have tried to enter Labor City, but been rebuffed by security guards at one of the control posts. Outside the «city» lies a shopping mall, not modern and shiny like those in Doha, but rather leaning towards the other end of the scale. Outside a falafel shop, Jiri from the Czech Republic and Hitindra from India are smoking. Jiri works as a foreman for a major construction company. Hitindra is his assistant. We strike up a conversation. Jiri says we're welcome to interview him. «But not here. I don't want anyone to observe that we're talking to you.»
I ask if we may snap a photo of them.
«Here? Are you mad? Do you want to get us killed? If our employer finds out we've been talking to you, we'll be arrested and deported on the spot!»
Jiri gives me his telephone number, and a couple of nights later, we're in his two-room apartment.
«I've seen so many deaths and accidents that I no longer react emotionally to it», Jiri says. «A few months ago, I was at a construction site when a big brick wall collapsed. Six people died, and eight more were severely injured. The dead and wounded were immediately collected by ambulances and driven away. Then we kept working, as if nothing had happened.»
Jiri's been working as a foreman in Qatar for two years.
«All in all, we're 5-600 workers. As far as I know, every worker gets to keep his passport, but acquiring an exit visa is almost impossible, and changing jobs is entirely impossible. So if you're discontent, you have no choice, you have to stay until you manage to get an exit visa.»
He offers me a Carlsberg.
«I have a friend who's got an alcohol license, so I buy beer from him.»
He tells me about life in Qatar.
«Everyone here is scared. I'm not, but I'm aware of the fact that if my employer found out that I've been talking to you, I'd lose my job, perhaps get imprisoned, certainly be deported and never allowed to set foot in Qatar again. A friend of mine, from Germany, found a girlfriend from the Philippines. You know, as a migrant worker you're prohibited from having a girlfriend. She got pregnant, but complications arose during the pregnancy and she had to be collected by an ambulance and driven to the hospital. There, she suffered a miscarriage. Then she was collected by police and put in prison. She had to stay there for a month, after going through a highly traumatic experience. When she eventually was released, she wanted to go to Germany to live with her boyfriend, who had been deported. But her employer refused to grant her an exit visa, so she had to complete the final months of her contract. That's Qatar. They don't care about the workers. They don't want the workers to integrate or become part of society.»
«It's different for those of us who are from Europe or North America,» he continues. «We're being paid well, perhaps twice as much as we'd earn back home. I make 3600 dollars a month, and, as you know, nobody in Qatar pays any taxes. If a guy from Bangladesh had my job, he'd make about 600 dollars a month. Perhaps even less. This is racism,» Jiri says.
«The Qataris have no idea how tough life is for the migrant workers. And they don't care. They have no contact with the real world and that's how they like it. What Qatar is trying to tell the world, has nothing to do with what it's actually like here. They're putting on an act, and it seems that act is quite successful.»
Everyone in the SCDL tells me it's great that I'm in Qatar now, that this is the best season to visit. They say that in June, July, August, and partly also September, it's so hot that they spend no time outdoors at all. They drive from home in their SUVs, then park in the basement garage of the office building. They say that if they walk only five metres on the street, their shirts will be drenched with sweat.
«My workers have a break from 11:00 to 15:00 in the summer months,» Jiri explains. «But they still have to stay on the construction site. There's always more than 40 degrees, sometimes more than 50 degrees, and a high level of humidity. I'm not one of those foremen who sits in his car with the air condition at full blast. I want to share the experience of the workers. Show that I care about them. But it's hard. In summer, I'm almost constantly nauseous and dizzy. I always feel like I'm about to throw up.»
Jiri says that personally, he's got no problem with Qatar hosting the World Cup. «They can afford to throw the money away, so let 'em.»
Jiri lives together with his wife, a Filipina. «We could never venture outside together,» he says. «If the police had seen us, we'd both get arrested and deported. So we went to Hong Kong, got married, returned and could move in together here. Now we no longer need to keep our love a secret.» The rent for the flat is about 1200 dollars a month. «I mean, this place isn't great or anything. But if I compare with those who work for me, it's paradise.»
Stranded without wages or jobs
It's five-thirty in the morning, but outside the labour camp Shahaniya there's already hectic activity. Hundreds of white buses stand waiting, ready to take tens of thousands of workers to construction sites in Doha and beyond. In the capital, these buses are rarely seen, despite the fact that the city in many ways is one giant construction site. The reason is that the white buses are not allowed to drive on the motorway. The buses must drive on so-called truck roads. If they drove on the motorway, there would be large fines to pay.
We have an appointment with some Filipino workers who have worked in Qatar for years. One day their employer, a Lebanese company called Alumco, suddenly disappeared. Left behind were some forty workers without work and therefore wages, with no possibility to support their families back home and indeed no possibility to travel home themselves. An exit visa can only be procured through an employer, but the company that employed the Filipinos ceased to exist overnight.
In all, thirteen workers have come to meet us. Roger, the one who speaks the best English of the group, speaks up:
«We struggle because we are hungry. We struggle because we don't know what will happen to us. But mentally, the hardest part is thinking about our families back home. For the past three months, we have been unable to send them any money.»
All the men have wives and children back in the Philippines. Most also support their parents and other relatives financially. They have all been in Qatar for five years or more, some of them as long as fifteen years. They used to work six days a week and make 360 dollars a month.
How do you get hold of food with no money?
«We try to help each other out as much as we can. At the moment, none of us has any money, but we receive some help from other Filipino workers, and we also get to buy rice, vegetables and water on credit in the shop. So, we're not starving, but the problem is our families; they will starve when we can't send them money. It's hard having to think about our children back home going hungry, while we're here, with no work and no prospects for the future. And they also struggle because they know we're struggling here. Some of the wives even suspect we're playing a trick on them; that we have work and money, but send none of it home,» Roger says.
The Filipino men used to work with glass and aluminium at various construction sites, most recently for the Ministry of Education and Higher Education. Before that, they worked at Hamad International Airport. «Latterly, we've been told that our employer's contract had expired, but we never heard anything about that at the time», Roger says. «What we want now, is to receive the unpaid wages we're owed and then go back to our families. We have our passports, but without exit visas we can't go home. We're trying to file an official complaint, but it's not easy. Luckily, someone is helping us.»
Who?
«We can't tell. If we did, we'd put that person at risk.»
Risk of what?
«This is Qatar. People like us have no rights and no voice of our own.»
What are you doing now, then?
«Sleep and work on our complaint. There's nothing else for us to do.»
They say life in Qatar has been good, in the sense that they have managed to support their families for many years. «We're proud of that, all of us. Life her consists of work, sleep, and sending money back home.» When I ask if they miss their kids, they all reply as one: «Yes, yes, yes.» «I haven't been home for three and a half years, and I have three small children», one of the workers says. «It hurts, being away from them. Sometimes we cry alone in our beds,» says Roger.
«Many people claim that the way Qatar treats its migrant workers is worryingly similar to slavery», I point out.
«We have more than enough to think about if we're not going to think about that, too. Many of us block out our feelings. We have to if were to survive and maintain our sanity.»
On their website, Alumco state that «our values are the core of the company». But when we call the company on several numbers in various countries, Qatar among them, the phone lines have been shut off. And when we try to reach headquarters in Lebanon, there's no reply.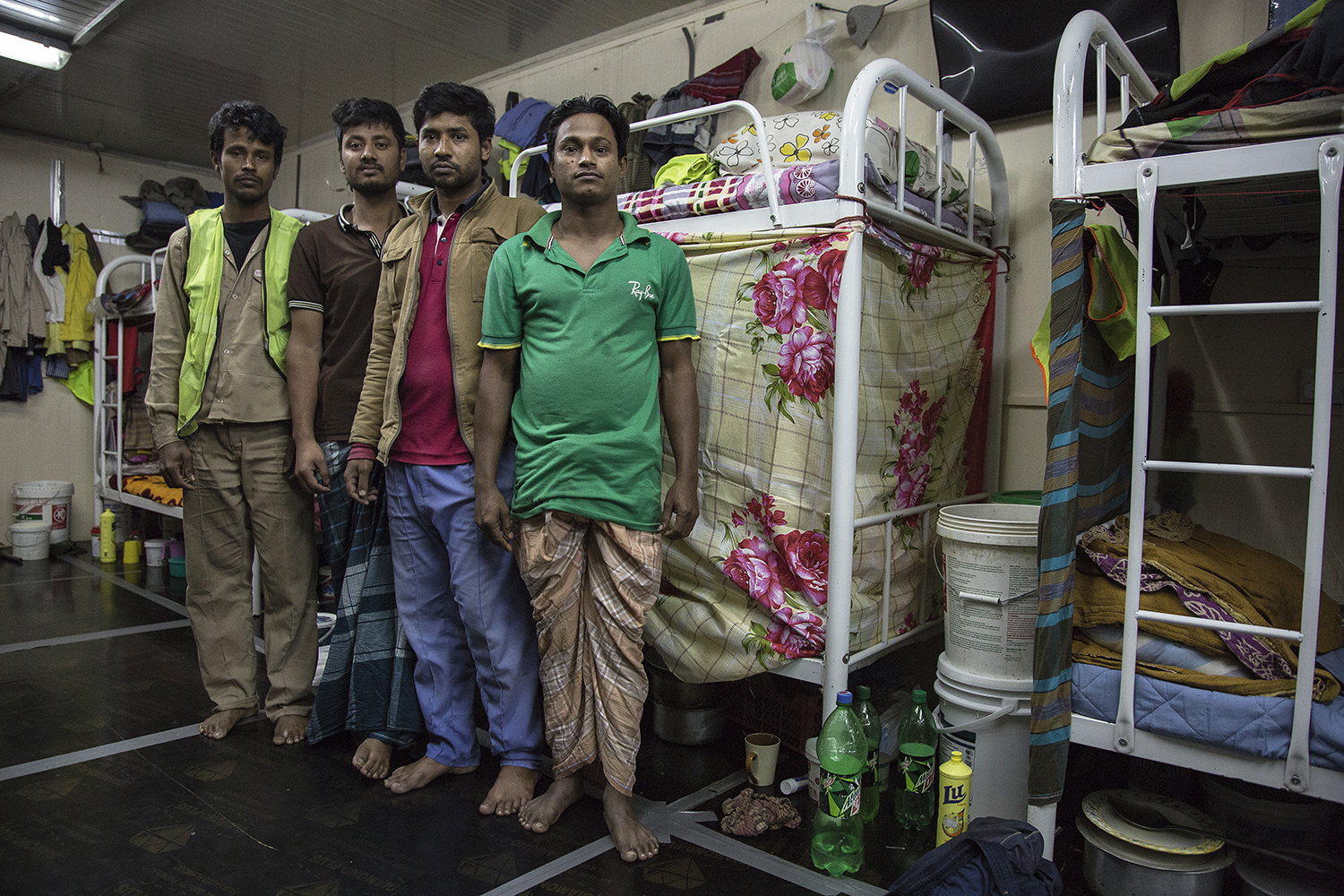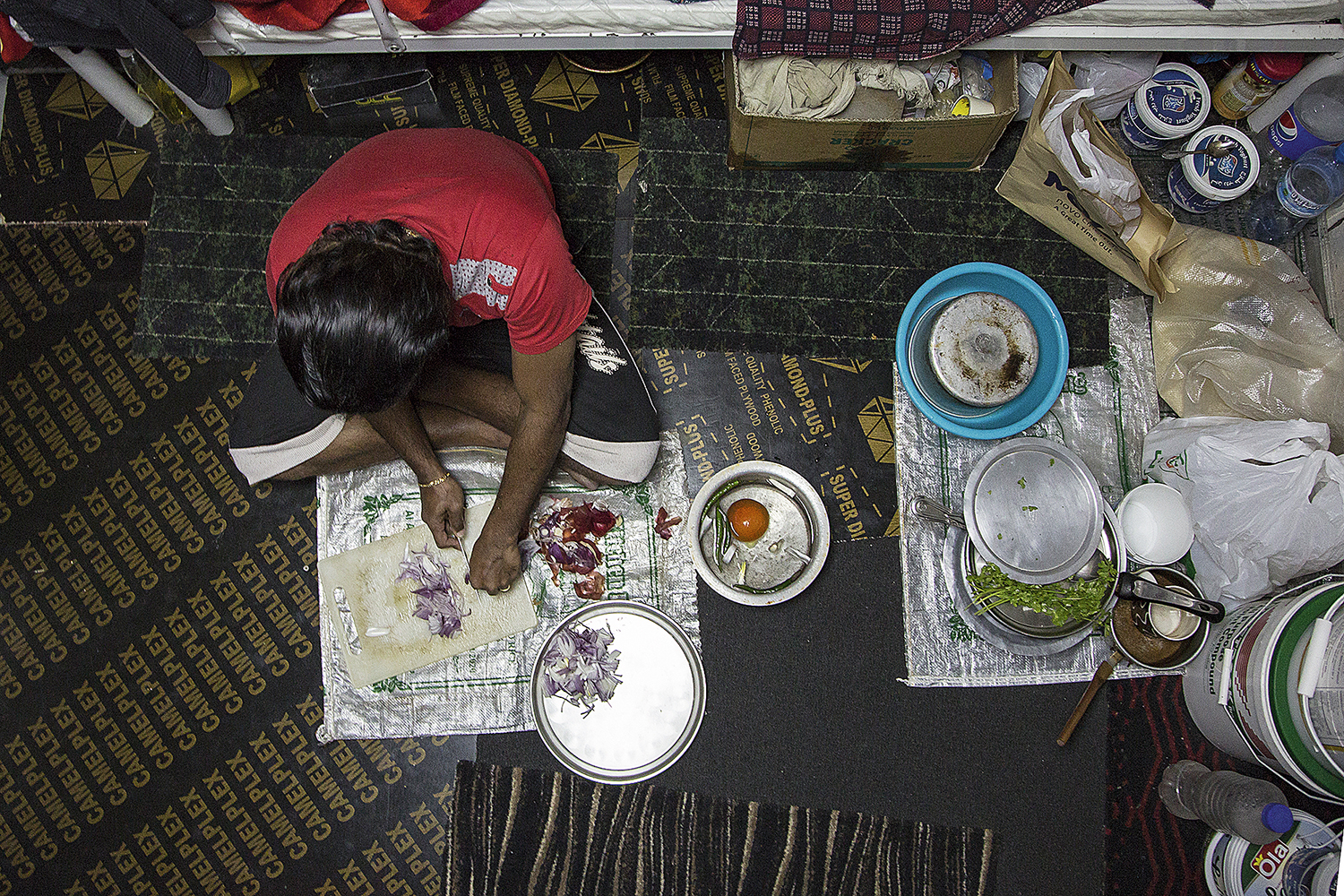 Bedbugs and sixteen men to the room
The labour camp at Shahaniya is a decaying industrial area mostly made up of barracks. Outside, clothes have been hung out to dry almost everywhere. It's 20:00 hours, the sun has set and it's dark. The lampposts contain no bulbs. We encounter a large-ish crowd, several hundred men waiting in line to withdraw cash from the only functioning ATM in the camp. They're restless, frustrated, some are angry. We strike up a conversation with four Bangladeshi men. We ask if they live here. They respond by inviting us to their room.
«Please, sit down. You may sit on the bed.»
The four Bangladeshi carpenters are hospitable and friendly, but speak little English. We ask about their wages, and Aktar shows me his paycheck. His basic wage is 130 dollars a month, far below the announced minimum wage of approximately 200 dollars. The narrow room has eight bunk beds and houses sixteen men. All personal belongings must be kept either under or in the bed. The «kitchen» consists of a stove with two burners. The four Bangladeshis have just returned from today's work. They inform us that they are being picked up at 5. A.M. and usually return to the camp around 7 P.M.. More often than not, they work seven days a week, and including overtime they can make up to 240 dollars a month. They've been in Qatar for three years, and are soon heading home on holiday for the first time since their arrival in the country. Aktar says they're uncertain about returning. Firstly, they've been assigned entirely different work to what they were promised. None of them had worked as a carpenter before. They believed they were to work in a laundry, and their wages were also promised to be substantially higher than those they now receive.
«This is no place to live. It's teeming with cockroaches and bed bugs!» says Aktar, pointing to a trio of the latter species under the bed.
In a different part of Shahaniya, the area where the Africans live, we meet Henry and Alex from Nigeria. They work as security guards for a private company at another labour camp. Henry's been here for three years and hates Qatar with all his heart.
«You can quote me on that», he says.
You don't like it here?
«Didn't you hear me the first time? I hate Qatar.»
«I've been here for almost three years – and I've worked from 7 A.M. to 7 P.M. every single day. Why? It's a waste of life. I have  no life, I'm a slave. And if I take no days off I'll get higher wages, about 360 dollars a month.»
«I'll be here until I've made enough money to open a small shop in Nigeria», Alex says. «I want to be my own boss. This slavery thing makes me despondent. I hate my life.»
The responsibility shirking World Cup
Vani Saraswathi, from India, has lived in Qatar for eighteen years, works for the organisation migrant-rights.org, and is an activist and journalist. There's no formal space for civil societies in the region, so migrant-rights.org which reports from across the GCC states is registered in the Netherlands and receives financial support from independent non-political philanthropic organizations. «We work out in the field or from our homes and have no offices in the region. This gives us some protection. But we do know we are under surveillance and our site gets hacked and receives severe DDOS attacks quite often.»
What's the biggest change you have observed during your eighteen years in Qatar?
«There's always been lots of construction sites here, but on a much smaller scale than now. Earlier, the main contractors themselves employed their workers, and sub-contractors barely existed. If workers were mistreated, they knew where they to go to voice their grievances. It was also easier for the authorities to keep an eye on things. In 2006, there was a vast increase in new construction projects. Ever more migrant workers kept arriving, and the sub-contractors were also growing in numbers. And after Qatar was awarded the World Cup in 2010, there was again explosive growth. This meant they needed an enormous amount of un-skilled workers, and they had no idea how to handle it. And now I'm not talking about the government, but the companies. They needed workers, but had no experience with how to handle so many of them. The companies grew, and went from employing a few hundred people to several thousands. This in turn made them dependent of sub-contractors and recruitment agencies. And the worst thing about the Kafala system, that you can't change jobs or go home without permission from your employer (which has changed now), became a giant problem», says Saraswathi.
«One of my most unpopular opinions is this: Things have been bad in Qatar, but never quite as bad as some people claim. Qatar has been portrayed as the only country in the world which treats its migrant workers poorly, a single, giant cemetery full of dead people, if you'd believe some international trade unions. The problem with such overblown rhetoric is that it tends to overshadow the real issues, which are bad enough – lots of truly horrible stuff has happened in Qatar.»
Vani Saraswathi believes the blockade has contributed to last year's announcement of labour reform.
«It's also important to remember that Qatar, as a member of the Gulf Cooperation Council (GCC), could not do much on its own. It's the GCC countries who have designed the current labour laws, and an agreement to change them must therefore be reached collectively. But now that Qatar have made some fresh promises, some people who were previously very critical and part of that rhetoric, suddenly say that now, everything's fantastic. It isn't. The situation is just as bad as two years ago, and just as bad as last year."
She continues:
«The new minimum wage is less than 200 dollars a month. It's not possible to have a life here on such low wages. In the bilateral agreements Qatar has entered with several of the migrant workers' home countries, the minimum wage is much higher. Which minimum wage is the right one? The one which is stated in the agreement Qatar has entered with the Philippines, or the one that is set here?», she asks. «The authorities have been talking non-stop about abolishing the Kafala system, but still workers can't change jobs freely. How can you say you've abolished the system, when two of its most important ingredients, the restrictions on changing jobs and going home (changed since), are still in place?»
Surveillance and secret shelters
The migrant workers most exposed to abuse in Qatar, are not the men we meet on the construction sites, but women who work in private homes. Many are victims of both mental and physical abuse, and in Doha, there's a secret shelter for mistreated women. We have been told we may visit the women, but a few days later, there's a counter-message. «You're probably under physical surveillance, and absolutely certainly under electronic surveillance. If you write about the shelter in your article, the authorities will easily be able to locate it. And then it will be closed down on the spot. That's a risk we can't take», our contact says.
Vani Saraswathi confirms she's familiar with the shelter. «I've paid them a visit a few times. None of the women have arrived there through the police, so rape cases will not have been formally registered. If you call the police, they'll just take you to hospital and, after your done there, on to a deportation facility. At this point, the embassy will also have been contacted. Most victims of rape don't want to press charges against their abuser, they just want to go home.»
«For domestic workers, there are no inspections, so it's impossible to find out if she is subject to horrible conditions. If you witness someone abusing their worker, you can't report it to the police. They won't accept any complaints or reports from a third party. The victim herself must call an emergency number, and for most, this is impossible, since only sixty per cent (as per rough estimates based on our interactions) of them are allowed to keep their phones. Those who don't have access to a phone, obviously can't report abuse. These women must escape from their employers. The problem is that if they do escape, they'll be registered as runaways and criminalized.»
«The fact that everyone needs more workers in order to push on towards 2022, means the need for sub-contractors will continue to rise. None of the hotels or the rest of the service industry will themselves employ all the workers they need. They'll continue to depend on recruitment agencies and sub-contractors. And a major problem with the promised labour reforms is that they say nothing about the sub-contractors. In many cases, we believe these are actually nothing more than recruitment agencies. And since these workers are not employed directly by the big companies, they can wash their hands of any problem and instead point at the sub-contractors.»
Many claim Qatar is a slave- and Apartheid state?
«It's definitely reminiscent of Apartheid. There are restrictions on where certain people may and may not venture. I'm uncomfortable with the word slavery, because it has certain connotations and I don't want to go there.»
The return of the dead
Every single day, two dead Nepalese workers return to their home country.
Barun Ghimire is a Nepalese lawyer who works with human rights and migrant workers. «We're working at establishing proper procedures regarding the deaths of our workers in Qatar», he says. «Many of the dead are being sent home with no explanation as to how their deaths occured. In this case, we cooperate with Nepalese authorities. We believe we have the right to demand access to health certificates. Moreover, recruitment agents are an enormous problem in Nepal. Many workers pay two agents, first the one who recruited them somewhere in the countryside, then to the one who actually finds them a job in Qatar. This means the migrant workers are burdened with debt from day one. And remember that these workers must borrow the money from local loan-sharks who charge interest rates of 30 per cent or even more. This makes the workers hostages of debt. They can't return home until they've paid their debts, no matter how horrible their employer in Qatar might be.»
The Nepalese authorities state that no one should pay more than 10 000 rupis (slightly more than a hundred dollars) in recruitment fees, but have failed to implement this measure. The recruitment agents demand fees up to 80 000 rupis, while the worker gets a receipt which says he's paid 10 000. Ghimire says it's very common to trick workers in this way. «Another common practice is to tell the worker that he, for example, will make 475 dollars a month. But when he arrives in Qatar, he discovers that his actual wage is less than half of that. As if that weren't enough, a worker who's been told he's going to work at a super market, might end up guarding a parking lot. Yesterday, I spoke to a worker who was supposed to work as a carpenter, but works as a gardener», Ghimire says.
A number's game?
The presence of ILO in Qatar gives grounds for hope. At the same time, however, many worry that the Qatari authorities will hide behind the ILO, and blame the agency if the reforms fail. According to Josimar's sources, the ILO has been in contact with organisations that already operate in Qatar and cooperate with local companies, in order to get access to their report regarding the improvement of workers' conditions. The information in the report, however, concerns only a tiny fraction of the two million migrant workers in the country. «ILO contacted me and wanted me to give them our reports. When I asked why, they said it was important to show good results early in the process, so that they could communicate to the outside world that there's being progress made in Qatar», a source tells Josimar.
We spoke to Houtan Homayounpour, the project manager for ILO in Qatar.
«Eventually, this office will hold fifteen international employees. We have begun the cooperation with local authorities, and fifteen motivated employees have been recruited», he says.
Qatar has also on previous occasions announced the abolition of the Kafala system, but nothing has happened. Why should anyone believe that it will happen now?
«What I can tell you, is that we will work hard to abolish the system. Both the Ministry of Labour and the other authorities have fully committed themselves to this. I'm comfortable saying that I feel secure that we can guarantee that we will be able to solve the problems regarding exit visas before the end of the year. We will also work with the authorities on the minimum wage. We'll find a threshold for the minimum wage, and work closely with the authorities on this issue, too.»
How are you going to ensure that the workers get to know their rights?
«There are several components here. We will have a communications campaign that will be visible all over Qatar. There, they will learn about the changes being implemented.»
Promises regarding labour reform have been repeatedly broken in the past. Does that worry you?
«No, we've never been present in Qatar before. This is the first time the ILO has established an office here. Our reason for doing so is that Qatar has committed to a fresh start, and from the highest level of goverment there's been a commitment to implement the changes. I'm absolutely confident the promises will be kept.»
Who picks up the bill for the ILO offices, for the employees' wages and other expenses?
«The way our program has been organised, after negotiations with the Qatari authorities, is that everything we do here, is fully financed by Qatar.»
We have been told that the ILO has requested to see reports from an organisation which already has made thorough inspections into several major companies which operate in Qatar. Why did you ask for these reports? Isn't it the idea that you're supposed to make such inspections yourself, regarding companies which haven't already been inspected?
«I'm not sure what you're referring to. It's the first time I hear about this. This is new to me.»
The average annual salary of ILO-employees in Qatar will be about 100 000 dollars, and this is tax-free income. Is this the average salary for ILO-employees all over the world?
«I'm uncertain where you've got those numbers from. For UN-employees around the world there's a standard salary which ensures everyone makes more or less the same.»