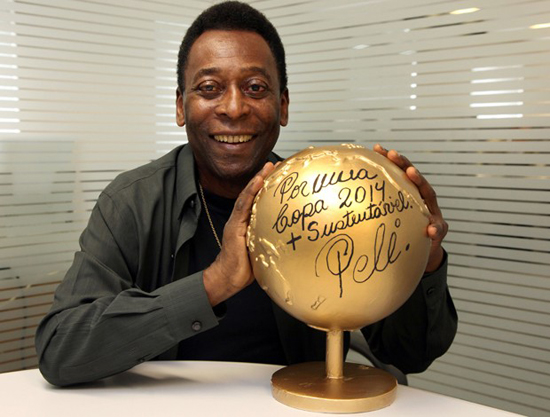 Yes, you can guess, but it's almost impossible to predict who will win in Brazil.
Tekst Simon Kuper
Pele won three World Cups with Brazil, but for the last forty years has attended the tournament as a kind of smiling handshaking puppet in the pay of big sponsors. The old man doesn't really like watching football, preferring to spend his days chilling in expensive hotel rooms. However, whenever he goes out, journalists run up asking which team he thinks will win. In 1982 he tipped Chile. In 1990 he said, "Italy is the favourite." In 1994 it was, "For me Colombia is the favourite." In 1998: "Spain is the big favourite". Etcetera, etcetera. None of his chosen teams achieved anything. Pele's one famous macro prediction was, "An African nation will win the World Cup before the year 2000." Until today, no African nation has got past the quarterfinals.
It's easy to laugh at Pele. However, there is a deeper truth here: a football World Cup is probably the most difficult sports tournament to predict. Nonetheless, everyone tries. These days, in conversations and TV panels worldwide, people are arguing about which is the best team. This chatter misses a crucial point: randomness. Predicting the world champion is like predicting where the next ball on the roulette table will fall.
If this competition were a league, played over 38 or so games, all of them in Brazil, then the favourites, Brazil, would almost certainly win. That's because over the long run, luck tends to even out. One week the referee will mistakenly give your opponents a penalty; the next week, he'll give it to you. Over a long period, the best team generally finishes top.
But a World Cup is a short competition. The champions will play just seven games. Their last four matches will all be knockout games: one bad day, or a stroke of bad luck, and you're out with no chance to even things up next week.
Brazil's coach Felipe Scolari, who managed the Brazilians to glory in 2002, understands the role of chance. I recently asked his great forward, Neymar, what Scolari had told the players about World Cups. Neymar replied: "He says the World Cup is the toughest tournament. There's no room for error, you can't start off average, you must be at full speed from the get-go. It's a short tournament where your margin of error is much smaller than in other matches."
Many past World Cups have turned on one or two moments. In the closing minutes of the final of 1978, with the score 1-1, a shot from Holland's striker Rob Rensenbrink bounced agonizingly off Argentina's post; the Argentines then won in extra time. Twenty years later, in the hours before the France-Brazil final, Brazil's best player Ronaldo suffered what appears to have been a panic attack while sleeping; exhausted afterwards, he wandered the field like a zombie, and France won 3-0. In 2010 Spain became world champions after scoring just eight goals in seven games. They played below their best most of the time, and probably wouldn't have triumphed if a Paraguayan penalty had gone in in the quarterfinal, or if the Spanish keeper Iker Casillas hadn't saved a Dutch shot with his studs late in the final.
Anyone interested in the role of luck in history will appreciate the penalty shootouts in Brazil. To see a player walking from the halfway line to take his kick, knowing that the next few seconds may provide his epitaph, is to watch a man face to face with fate. Losing coaches often dismiss penalty shootouts as "a lottery", and there is something in this. But there's also something majestic about the shootout. It's an unscripted drama – watched by hundreds of millions worldwide – about the role of chance in human events. This tournament usually makes fools of forecasters, not just of Pele.