FIFA has sent a five-man task force to inspect the bidders for the 2026 World Cup. They claim it's to ensure a 'fair and transparent' process. But can we trust the members of this task force to be unbiased?
By Pål Ødegård
Støtt Josimar!
For å kunne drive med undersøkende journalistikk trenger vi hjelp fra våre lesere.
Gi 50 NOK: Send sms med kodeord Eder til 2199.
Gi 100 NOK: Send sms med kodeord Junior til 2199.
Gi 200 NOK: Send sms med kodeord Falcao til 2199.
Gi 500 NOK: Send sms med kodeord Socrates til 2199.
Beløpet blir belastet din telefonregning.
On April 16th a five-man FIFA task force arrived in Morocco to assess its ability to stage a 48-team World Cup in 2026. But even before they started their inspections, the local bid committee has criticized it for being biased against the Moroccan bid and in favour of the 'United' bid comprising of USA, Canada and Mexico. They accuse the five men of being sent by the FIFA president to kill Morocco's bid in the bud.
The FIFA bid evaluation task force's 4-day tour of Morocco, which concludes on Thursday the 19th, comes after a similar visit to Mexico, Canada and the US last week. Their job is to compile a report for the FIFA council where they assess the bids on a range of technical and economic criteria, ranked from 0 to 5. The FIFA council will then give their recommendations to the FIFA congress in Moscow in June, who will vote on who will get to host the 2026 World Cup. It's the first time the congress will vote on this. It will also be an open vote, meaning the world will know who voted for which bid. There's also a 'none of the above' option which, if it gains majority, will lead to the bidding process starting over again.
See also: Jalla! Jalla! Morocco calling
'White elephants'
The Moroccans, however, feel the bidding process is rigged and biased against them. It is widely believed FIFA president Gianni Infantino favours the 'United' bid. When negotiating broadcasting contracts, FIFA insisted on a windfall bonus of US$306 millions from North American broadcasters if the 'United' bid wins. The Moroccan bid committee also objected to the criteria being altered by FIFA just two days before the deadline to present bids. FIFA retorted to the criticism by stating that the evaluation of the bids will be 'fair and transparent', including a wish to avoid 'white elephant' projects and lack of sustainability which have marred former World Cups, damaging FIFA's reputation. Supporters of the Moroccan bid, however, saw this as yet another manifestation of Infantino's preference. While the 'United' bid have all their facilities already in place, Morocco must build all their stadiums, or significantly upgrade their existing ones. Stadium and infrastructure projects in Morocco, if they are awarded the tournament, amount to more than US$15 billion. As Infantino has promised member associations a quadrupling of development money, the US-led bid with its much bigger projected revenues must certainly look attractive as a good selling point to get himself re-elected as president of FIFA in 2019. Several CAF officials have therefore voiced their concern over the inspection task force being Infantino marionettes sent to give the Moroccan bid low scores, which can even disqualify them before a vote. But who, then, are these alleged puppets of the FIFA president – who are The Task Force Five?
The seasoned pro
Marco Villiger, deputy secretary general in charge of commercial and administrative affairs of FIFA, is the archetypical FIFA technocrat, and by many considered the real secretary general of the organization, is the leader of the pack. After taking his legal master in Zurich in 2000, he started as head of FIFA's disciplinary division in 2002, before becoming director of the legal division in 2007. His discretion and efficiency made him one of former FIFA president Sepp Blatter's most trusted men. Or so it appeared. Before the arrests in Zurich by federal Swiss police and the FBI, Villiger reportedly hired the prestigious US legal firm Quinn Emanuel to protect FIFA from being labelled a mafia organization by the US Department of Justice. Quinn Emanuel's agreement with FIFA was signed in 2014, by Villiger. Sepp Blatter, who later had to step down because of the scandal, has stated that he was never aware of the agreement at the time. Blatter also claimed he stepped down after being advised by Villiger. And after Gianni Infantino was elected to replace Blatter in 2016, the new FIFA president rigorously got rid of all the old guard. Except for one man: Marco Villiger. It makes one wonder whether it's Infantino who is the most powerful man at FIFA, or his discreet fellow Swiss lawyer. After all, Villiger helped to gather all files and documents within FIFA for Quinn Emanuel, something which must have given him a significant leverage towards any official wanting to get rid of him.
The star player
FIFA's other deputy secretary general is much more famous, although far less influential and experienced at football politics. Zvonimir Boban is mostly known as one of the jewels of Yugoslavia's golden generation national team that disintegrated along with the state in the nineties. Boban himself became a national hero among Croats as he kicked a Yugoslav policeman during a match between Dinamo Zagreb and Red Star Belgrade in May 1990, a match that escalated the ethnic tensions within Yugoslavia to dangerous levels.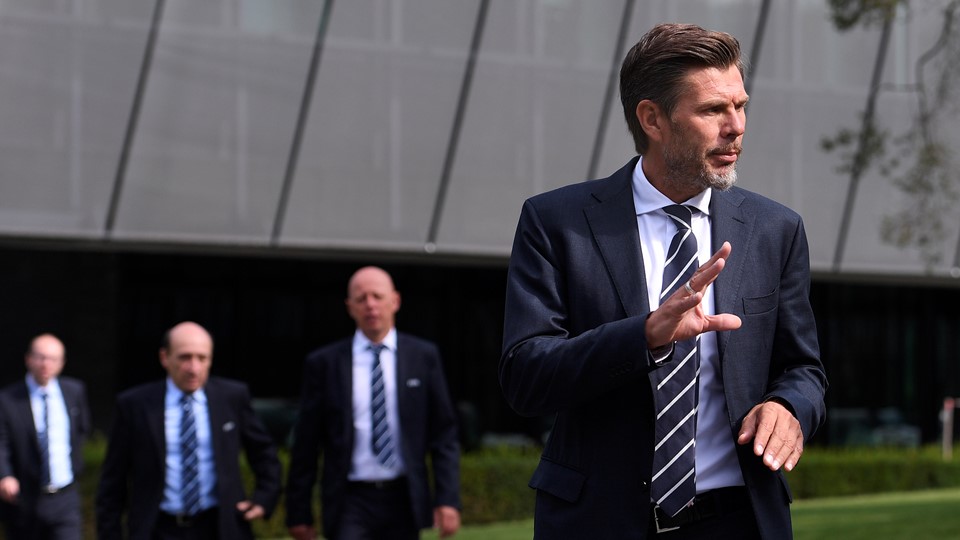 After his successful career both for the Croatian national team and at a Champions League winning AC Milan, he was a manager and columnist at Croatia's only daily sports newspaper. His frank columns where he criticized the corrupt leadership of the country made him very popular among the public. But it also made him enemies. And especially Zdravko Mamić, former president of Dinamo Zagreb. Mamić, linked to several corruption cases, is still considered Croatian football's most powerful man, despite a court order banning him from any football related activity. A column by Boban criticizing Mamić was then censored, and Boban resigned from the newspaper. This rift also seems to be the reason why Boban never got a position at the Croatian football federation, something many people called for. He has dismissed that, as he saw the organization as 'too rotten for one man to fix'.
So how did he end up as as one of FIFA's most prominent executives, heading the technical and sporting branch? After accompanying Infantino to oversee World Cup preparations in Moscow and Doha, and then to the FIFA congress in Mexico City, he was officially hired as a special adviser along with former secretary general of the Norwegian FA, Kjetil Siem, in May 2016. Why Infantino chose Boban as a close adviser is uncertain. But it's tempting to conclude that Boban is what Villiger perhaps isn't for the FIFA president: a man who is loyal and easy to control.
The teammate
Another member on the task force is the chairman of FIFA's audit and compliance committee, Slovenian Tomaž Vesel. Yes, another man from the Balkans. And another toy soldier of Infantino? His predecessor was Domenico Scala, who resigned in protest when the FIFA council led by Infantino snuck in a resolution into Scala's reform programme the FIFA congress voted on at the FIFA congress in Mexico City to dismiss or hire any chairpersons of the independent committees until the subsequent congress in Bahrain a year later. Why did Infantino choose a Slovenian state auditor to replace Scala? As this magazine has covered, was it perhaps tit for tat after the FIFA president supported Aleksander Čeferin's campaign to become UEFA president in 2016, as Vesel happened to be Čeferin's teammate on a Slovenian lawyers' Sunday league club? FIFA certainly weren't concerned when Josimar revealed that Vesel also held a position in the youth committee of the Slovenian football federation within the five years previous to his appointment at FIFA, which by FIFA's own regulations ruled him out as a candidate for the FIFA committee that has as a job to make sure these regulations are followed. But if Vesel's credibility as a FIFA watchdog wasn't undermined sufficiently to quell any doubt at that point, he also participated in trying to stop someone else from doing his job. Along with the general secretary of FIFA, Fatma Samoura, he travelled to Brussels to persuade the chairman of FIFA's governance committee, Miguel Maduro, to make Russia's Vitaly Mutko eligible for the FIFA council. Mutko, by FIFA eligibility rules, was ineligible for this committee as he was also in the quite political position of being deputy prime minister of Russia. Samoura and Vesel failed in their mission as Maduro held fast, and followed the rules he had been assigned to make others follow. For that he was fired at the next FIFA congress. A greater geographical and gender spread heading the independent committees, was FIFA's excuse for firing him. It implied there was too many middle aged white European men chairing the committees. Vesel – a middle aged European man – stayed on, however.
The magistrate
Maduro wasn't the only one to leave the governance committee in protest over Maduro's ousting. So did other independent members like Joseph Weiler and Navi Pillay. But one stayed on, and that is the fourth member of this task force. Mukul Mudgal, Maduro's deputy chairman, has experience as a state magistrate in India, where he most notably oversaw a process to eradicate corruption in the country's professional cricket league. Otherwise, he's as obscure a personality as a football administrator from India can be. It is noteworthy that the governance committee hasn't been heard from since, and Mugdal seems to be a far cry from the rigorous and industrious enforcer Maduro was during his short tenure. The latter has since publicly criticized the committee for consisting of fewer independent members than elected football officials, in effect removing the suffix 'in' from the word 'independent'. This doesn't seem to bother his former deputy and successor. Perhaps it's early to judge this particular book by its cover. But, again, one remains with the sensation that this task force includes another Infantino tail-wagger.
The coach
The final member is the odd one out. All the former have either been appointed directly by the FIFA president, or are there because of Infantino's machinations. They all also hold quite powerful, high ranking positions at the organization. Ilcho Giorgiovski does not. He's just one of another 23 members of the organizing committee for FIFA competitions. But, hey, the committee is headed by Aleksander Čeferin, Vesel's team mate! And indeed, Giorgiovski is the third of a total of five task force member from the Balkans. But still, who is this Giorgiovski anyway? He was elected as the president of the Macedonian football federation in 2012 after a playing and coaching career. But if Macedonians hoped the former Vardar Skopje coach would be a good choice, they have been disappointed. Not only have the nation plummeted in the FIFA rankings. There have been strong allegations of fraud and intimidation of voters and observers when he was elected. And that's not all. There are also strong indications that he uses the federation as a vehicle to embezzle money for his own benefit. Construction work on training facilities and stadiums are given to companies he himself owns. And that might just be the tip of the iceberg. There exists some footage of Giorgiovski as he in tries to shake hands with Infantino when the Swiss won the FIFA presidential election, but the FIFA president ignores him as he's busy getting congratulations from other more prominent officials. Now, at least, he has been noticed.
A step forward?
So two former players, and three men of the law. Are they even qualified to assess technical and economical aspects of such gigantic projects, and how they can impact society at local level? Hardly. To be fair, inspection teams during former bidding processes (then just coined 'bid inspection team', and not the aggressively sounding 'task force') haven't included independent experts either. But they also never included such high-ranking members as this one. One can argue that including two chairpersons of independent FIFA committees is a step forward. But that argument is severely undermined by the fact that their integrity as power checkers are more than questionable.