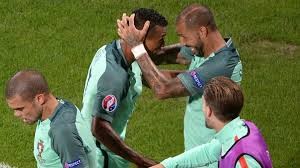 Tekst Saša Ibrulj
Do you remember Copa 2011? Paraguay opened the group stages with a dull 0-0 draw with Ecuador; followed by winning a point in a 2-2 draw with Brazil and conceding twice in last two minutes to drop two points to Venezuela. Weird as Copa can be, the draw put them against Brazil in the quarter finals. Match went to penalties, Brazil missed all four of them, and Paraguay advanced to semifinal to meet Venezuela, again. Again dull, again 0-0; fifth draw in five matches and after penalties Paraguay was in the big final, their first since 1979

Paraguay lost that match to Uruguay, but in a way Tata Martino proved a point. If you are pragmatic enough, if you realize that you actually look better when you look ugly, then you may win something at the end. Fast forward five years and Portugal is in the Euro 2016 quarter final after four draws in four matches; if we ignore the fact that they did beat Croatia in the extra time.
But, that's not the point; the point is that the idea to be pragmatic and adjust to the game is probably the oldest one and the one that will live as long as football lives. And there is nothing wrong with that. As much as we try to overanalyse it from time to time, football is actually a simple game. You just need to win, that is the only important thing.
The same point Otto Rehhagel proved in 2004, the year when Fernando Santos moved to Greece for the second time in his life. Fernando Santos who's Portugal struggled in the group against the teams that decided to sit back and defend – Iceland (1-1) and Austria (0-0). But, the Hungary (3-3) match is probably the one that was an eye opener for Santos. Three easily conceded goals were a simple warning – this Portugal is not able to outplay not just teams that are better than them, but even mediocre teams that are prepared to take them in an open play.
I guess you've all seen Croatia in the group stage. Everyone was impressed with how they looked against Turkey, in the first half against Czech Republic and that fantastic win over Spain. In fact, in that three matches Croatia showed, despite huge talent and individual quality, it is a linear team. In the first two matches, when they were in control of the possession, Croats had only one plan – get the ball to the flanks, mostly the right one, and launch as many as possible crosses to Mandžukić. In the third – the most impressive match in which they played without at least four very important players – the Croats left the possession to Spain, but they introduced a high pressing and fast transition as their strongest weapon.
So, when Santos analysed Čačić's team he obviously returned to that conclusion he had after Hungary – this Portugal is not good enough to outplay the Croatia from Spain match and he would prefer to play the one from Turkey/Czech Republic match. And he forced Čačić to play like that.
Santos gave the ball to the Croats, but put Modrić under pressure, so he had to return all the way to his own box to pick up the ball. Croatia's center backs are just not good enough to create from behind, but even there Santos looked for a weak spot – Ćorluka, who is still a bit better with a ball, was under pressure as well and Vida was the one to create and he just can't.
This, among other things, obviously killed the game. Čačić, who obviously wanted to sit back and leave the possession to Portugal, did not react to this. He was probably satisfied with a fact that Portugal is offensively neutralised (by themselves!) and counted that individual mistake or a set-piece could be decisive. This is the reason why we had to watch the dullest match in the European championship ever – both Santos and Čačić did not want to take the risk.
However, the more important question for us neutrals here is if Fernando Santos have seen this as a perfect way to get the result. This Thursday Portugal plays Poland in the first quarterfinal and I am a bit afraid of what we can expect there. Not in the positive way. Poland is the team that conceded the least goals in this tournament; they've beat Northern Ireland and Ukraine by one goal, the match with the Germans ended with goalless draw, while they knocked the Swiss out of the tournament after penalties. In last six matches, including two friendlies, they've scored four and conceded two goals. Least goals conceded in this tournament, but least goals scored out of last eight teams. Sounds entertaining?
Fernando Santos was not willing to take the risk against the Croats and in the same time he knows that he struggles against the teams that defend well. It seems that Nawalka is not taking the risk, well, ever. Both know that sitting and waiting for the break is their strongest side, both know that they are most vulnerable in defending transition, and for both the stake is huge. Sounds like a story of this tournament, but are we destined for another boring evening? As much as that is legal and understandable, let's just hope not.