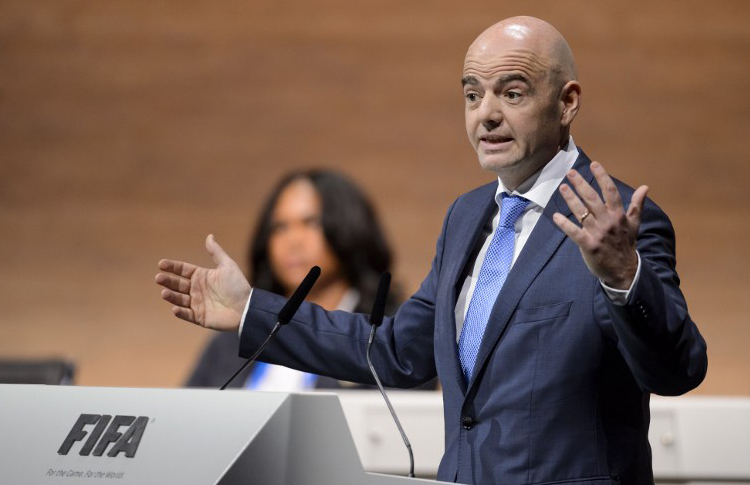 FIFA's Code of Ethics regulates involvement with betting companies. As UEFA's Secretary General, did Gianni Infantino violate these regulations when he granted a 4 million euro loan to the Slovenian FA – money they spent on shares in the lottery company Sportna Loterija?
By Håvard Melnæs, Andreas Selliaas and Pål Ødegård
FIFA's Code of Ethics, Article 25:
Integrity of matches and competitions
Persons bound by this Code shall be forbidden from taking part in, either directly or indirectly, or otherwise being associated with, betting, gambling, lotteries and similar events or transactions connected with football matches. They are forbidden from having stakes, either actively or passively, incompanies, concerns, organisations, etc. that promote, broker, arrange or conduct such events or transactions.»
In cooperation with the Danish newspaper Ekstra Bladet, Josimar Tuesday described how UEFA during the summer of 2015 granted The Football Association of Slovenia a loan of 4 million euro. A substantial portion of these funds (3.6 million euro) was spent on buying 17.3 % of the total shares in the lottery company Sportna Loterija. Asked whether UEFA would grant a member association a loan intended for the acquisition of such shares, the UEFA Board Member and one of the three members of UEFA's Financial Committee, Allan Hansen of Denmark, gave this answer:
«No, I could not imagine that.»
Yesterday Ekstra Bladet received an eyebrow-raising reply from UEFA.
«It is quite common for UEFA to issue loans to national associations. Of course loans granted have to go through an approval process by UEFA. The funds have to be spent on strategic or operational football related matters. Loan agreements are signed at arm's lengths with market related interests and clear repayment terms.
This particular request followed normal procedure and was approved by five people at UEFA including our president, general secretary and chairman of the finance committee.
The loan was used for a state lottery company which made sense from a football strategic point of view.»
At the time the Slovenian FA were granted this loan by UEFA, Michel Platini was President, Gianni Infantino was Secretary General and Mario Lefkaritis was Head of the Finance Committee.
«UEFA has all the documents»
Astonishingly, UEFA informs us that Michel Platini and Gianni Infantino were among the people who approved the loan application. According to Josimar's sources, it is supposed to be the Finance Committee that approves loans – not the President and Secretary General.
And, Allan Hansen, a member of the Finance Committee (who are, according to UEFA guidelines, tasked with approving loan applications) said Tuesday that it was beyond his imagination that UEFA had granted a loan intended for stock acquisition.
The London-based newspaper The Guardian followed up on our story and asked the newly elected UEFA President Aleksander Čeferin if it was true that the Slovenian FA had spent the UEFA loan on shares in a lottery company.
"That's another joke from the same media. It's all completely clear and UEFA has all the documents and I was even not involved in this», he said.
Article 25 of FIFA's Code of Ethics restricts any people holding office in football from being involved in betting and lottery companies. I 2012 Rodney Michael was banned from standing in Sierra Leone's FA Presidential Election due to links to a betting company.
The question now is whether Gianni Infantino breached the same regulations when he approved the 4 million euro loan to the Slovenian FA intended for buying shares in Sportna Loterija.
Josimar have sent several questions to FIFA, who has, as of yet, not granted us with a reply.