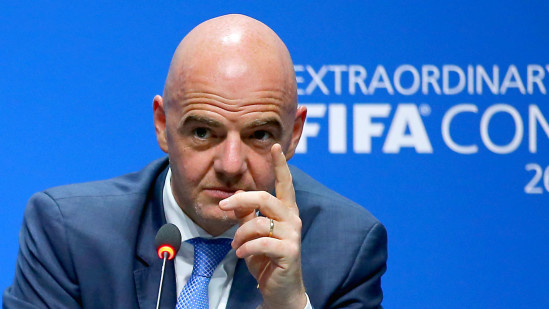 FIFA's Ethics Committee are investigating FIFA President Gianni Infantino for his role when UEFA granted a loan to the Slovenian FA in 2015. UEFA did not follow protocol when they granted the Slovenian FA a loan to buy shares in the betting company Sportna Loterija.
By Pål Ødegård, Håvard Melnæs og Andreas Selliaas
Two weeks ago Josimar in collaboration with Danish newspaper Ekstra Bladet reported that UEFA gave a loan of 4 million euro to the Slovenian FA (NZS), who spent most of the amount (3.6 million euro) on acquiring shares in the betting company Sportna Loterija. Several sources Josimar talked to said such a loan had to be used specifically for football matters.
Regarding loans given to member associations, UEFA are operating with strict guidelines.
It is the decision of the Finance Committee which loans are granted and which loans are not. In this instance, the Finance Committee was sidestepped. The loan was instead approved and signed by the then UEFA President Michel Platini, the then Secretary General Gianni Infantino and Vice President Marios Lefkaritis, Finance Director Josef Koller and the then Deputy Secretary General Theodore Theodoridis (now the Secretary General).
The loan approval also contradicted Article 25 in FIFA's Code of Ethics, which states that;
"Persons bound by this Code shall be forbidden from taking part in, either
directly or indirectly, or otherwise being associated with, betting, gambling,
lotteries and similar events or transactions connected with football matches.
They are forbidden from having stakes, either actively or passively, in
companies, concerns, organisations, etc. that promote, broker, arrange or
conduct such events or transactions."
At the time of the loan approval, the newly elected UEFA President, Aleksander Čeferin, was President of the Slovenian FA.
When the loan was approved, did UEFA know how the Slovenian FA planned to spend the money?
Josimar asked UEFA this vital question, directed to Josef Koller. This is what a UEFA spokesperson answered;
"This particular request followed normal procedure and was approved by five people at UEFA including our president, general secretary and chairman of the finance committee. It is quite common for UEFA to issue loans to national associations. Of course loans granted have to go through an approval process by UEFA. The funds have to be spent on strategic or operational football related matters. Loan agreements are signed at arm's lengths with market related interests and clear repayment terms.
The loan was used for a state lottery company which made sense from a football strategic point of view.
Should the loan not be used as stipulated in the agreement, the outstanding amount would immediately be due."
This statement is astonishing when compared to what Allan Hansen, one of three members of the Finance Committee, told the Danish newspaper Ekstra Bladet:
"There is a clear definition of what the money can be spent on", he said, and added that it was unthinkable that UEFA would have approved a loan they knew would be spent on the stock market.
In addition, Allan Hansen was adamant that the 4 million euro loan to NZS was not approved by the board of the Finance Committee, which would be the official procedure.
Legal experts Josimar have talked to say that the Ethics Committee of FIFA will be reluctant to build a case until they have established a well documented prima facie where individuals clearly have violated the ethics code, and furthermore say that there might be sufficient evidence of misconduct in this case.
Roman Geiser, spokesperson for the investigatory chamber of the Ethics Committee, will neither confirm or deny anything, and states that they only have mandate to give a statement if and when a preliminary investigation is concluded. But sources Josimar have spoken to say the matter have caught the attention of FIFA's ethics investigators, which might bring more trouble for Gianni Infantino, who narrowly escaped a sanction by the same committee for dubious use of private jets.
This is the second time during his first eight months as FIFA President, that Gianni Infantino is under investigation by the organization's Ethics Committee.