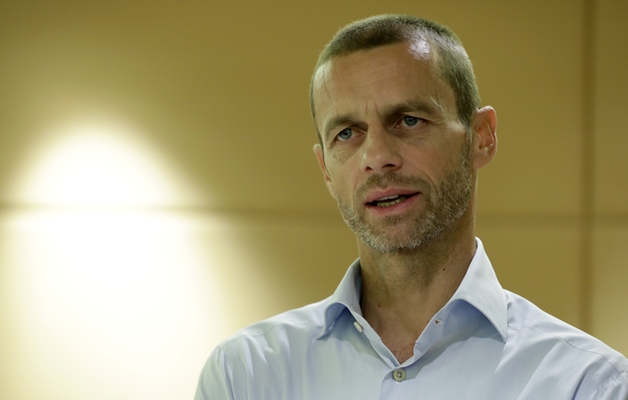 Newly elected UEFA President Aleksander Čeferin has risen from obscureness to the peak of football power in record time. But did he have the necessary credentials when he became president of the Slovenian Football Association in 2011?
By Pål Ødegård, Håvard Melnæs and Andreas Selliaas
As Josimar revealed in our article leading up to the election in Athens, there are indeed something odd about his curriculum vitae in football politics. A week before the UEFA Presidential election, Aleksander Čeferin didn't even have a Wikipedia entry in his own language, nor any other. These have suddenly emerged in the last couple of days in various languages – Slovenian, English and Spanish. They are pure copies of Čeferin's profile on uefa.com, however, which lists him as a 'member' of NK Olimpija Ljubljana since 2006. The reason this is relevant is that according to our sources, in 2011 when Čeferin was elected, the election rules of the Slovenian FA stated that you needed five years of boardroom experience in football. The only available hands-on rules, though, are the ratified regulations from 2012, which state that, for a President or a Vice President to be eligible, they need at least three years boardroom experience.
Despite extensive efforts, Josimar have never been able to confirm the 5 years experience requirements in article 3 of the Slovenian FA's election regulations (The Slovenian FA wouldn't return our calls, nor answer our emails).
This is the UEFA-profile of Aleksander Čeferin.
The futsal club
The first entry states that he was an executive board member of the futsal club KMN Svea Lesna Litaja from 2005 until 2011. The club, founded on Christmas eve in 1982 when Slovenia was part of Yugoslavia, have won several championships in Slovenia since the late nineties.
The club president of KMN Svea Lesna Litaja, Samantha T. Lovse, tells Josimar that Čeferin was an active member of the club, but that he never was a member of the board of directors. Despite this, UEFA maintains on their website that Čeferin indeed has been a board member of KMN Svea Lesna Litaja .
The lawyers' team
Čeferin's UEFA-profile also claims that he has held a seat on the executive board of FC Ljubljana Lawyers from 2005 to 2011. FC Ljubljana Lawyers is basically a Sunday League club, or an amateur veterans' team, where lawyers come together for football and comradeship. It is not a part of any organized football under the umbrella of the Slovenian FA. Its web page shows images of Aleksander Čeferin and colleagues, such as the president of FIFPro's Slovenian branch, Dejan Stefanovic, enjoying a beer while at a tournament in Alicante. The newly appointed independent chairperson of FIFAs Audit & Compliance Committee, Tomaz Vesel does not appear on any of the photographs, but has admitted playing with Čeferin on this team.
But has Aleksander Čeferin served on Ljubljana Lawyers executive board?
And does a Sunday League club have a executive board in the first place?
On Ljubljana Lawyers's website, there is no mention of a board. And according to the Slovenian FA rules, any board experience there would not qualify as adequate credentials to run for President of the Slovenian FA because the team isn't organized under the umbrella of the Slovenian FA.
«Transparency and good governance»
Aleksander Čeferin's most significant experience, however, is claimed to be with NK Olimpija Ljubljana. Here he is supposed to have served from 2006 until elected President of the Slovenian FA in 2011. The capital-based club, who now competes in the top tier of the Slovenian league system, is a relatively new club after going bust in 2004. It was refounded under the name NK Bezigrad. It managed to get promoted from the fifth tier to the first in successive seasons.
Čeferin claims to have been part of the executive board that made this meteoric rise. But when Josimar spoke to press officer Aljosa Vekic the version was quite different.
«Mr Čeferin helped us acquire our current name for a short period in 2006 as an external legal advisor, and then became a board member in 2010.»
It's worth noting that the then president of NK Olimpija Ljubljana, Franci Zavrl, today is the Vice President of the Slovenian FA.
Perhaps it's not such a big deal that the newly appointed President of UEFA didn't have the right credentials when he was elected the President of the Slovenian FA. But it might be worrying that a UEFA President who on-stage in Athens this week stated transparency and good governance as his platform, might have fabricated the little football experience he has.
As Josimar already have reported, Aleksander Čeferin's claimed experience came under scrutiny when he was running for the Presidency of the Slovenian FA back in 2011. But a private law faculty in Nova Gorice, where Aleksander's brother now happens to be a lecturer, ratified his experience. The Electoral Board of the Slovenian FA doesn't seem to have bothered checking much back in 2011, as Čeferin was duly elected in the end without opposition. Perhaps it's because documentation of the claimed experience is very hard to come by?