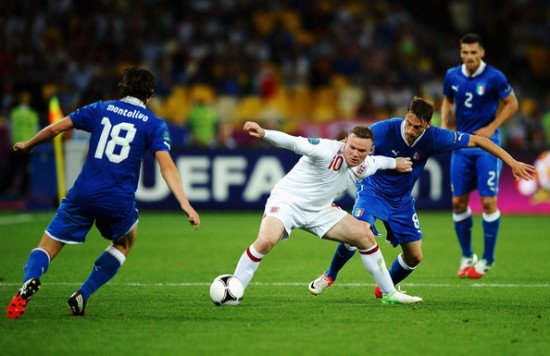 By Simon Kuper in Salvador, Brazil
You shouldn't expect good football in Manaus. The Amazonian city is so hot and humid that you need a shower after just walking down the street. On Saturday evening, we in the stands lost weight simply watching England-Italy. The game should have been a slow bore. Instead it was a classic. In World Cup terms, this means two strong, evenly matched teams both producing their best attacking game. That sounds simple, but the last classic I was present for was England-Argentina in St Etienne, France sixteen years ago.
I landed in Brazil expecting tedium. The average goals per game at World Cups has dropped steadily from 2.71 in 1994 to just 2.27 in 2010. I've been to six previous World Cups, and have often sat in the stands thinking, "Why is anybody watching this?", most notably in Cologne in 2006 at Switzerland-Ukraine, the nadir of 10,000 years of human civilization. Yet so far, the World Cup has been a cracker. In the first eleven games we saw 37 goals – 3.36 a game. [Note: figures correct through end of Argentina-Bosnia game, June 15 – SK] Admittedly that's a small sample size, but this isn't just about numbers. Many teams have changed their attitude. Attack seems to be back. We owe this to the commercialization of football.
You fly around Brazil thinking the World Cup is being played here. But that's an illusion. The stadiums are just a stage-set. The real venue, in the minds of the organizers Fifa, is the global living-room. Since the early 1990s, football's TV income has just kept ballooning. Fifa is now effectively a TV producer that owns the world's most valuable content. This World Cup will be the most watched TV event in history, as the planet's four most populous countries – China, India, the US and Indonesia – increasingly switch on. Football now makes its money nurturing the viewer at home.
We know what viewers want: stars playing attacking football. And so, whereas Pele and Diego Maradona were kicked out of the World Cups 1966 and 1982 by brutal defenders, today's stars Neymar, Arjen Robben and Lionel Messi are protected by referees. TV viewers don't like diving or timewasting, and so referees don't tolerate those. At a workshop before the tournament, coaches were shown videos of dives, and were told: refs won't be falling for that. Admittedly Brazil's Fred got a penalty for a dive against Croatia, but different rules apply to hosts. The Greeks, notably, tumbled endlessly in the Colombian box without reward.
Meanwhile club football, too, has become more attacking because of TV. Before the early 1990s, hardly any club games were shown live, and so coaches could be boring. Nowadays fans, media and sponsors complain about defensive play. That means most players come to this World Cup versed in attacking football with their clubs. National team coaches simply don't have time to reprogram their players, Belgium's coach Marc Wilmots told me. When Argentina's coach Alejandro Sabadella asked Messi how he wanted to play, Messi replied: with lots of other attacking players, like at Barcelona. In the second half against Bosnia, his will was done – and he responded. Barcelona's attacking passing game is the dominant style of the TV era. Various versions exist: Spain's tiki taka was dismantled in Salvador by the fast-passing counter-thrusts of their Dutch cousins. But several countries now prioritize fast-passing attack, particularly Germany, Chile, and even formerly boring Italy and Belgium. "You have to dare. Not like little Belgians. Dare to take a match in hand," says Wilmots.
Tiki taka isn't dead: it's just better played now by Italy than Spain. For some, passing attack is not simply a style, but an ideology. "Only he who plays beautifully wins titles," Germany's coach Joachim Löw has said. Many teams here have kept pouring forward even after taking the lead: remember Costa Rica's third, crowning goal against Uruguay. Coaches feel free to play beautiful football because increasingly, fans accept defeat. TV cameras and commercials, with their focus on face-painted spectators in funny headgear, have helped spread the idea of the World Cup as party. World Cups are ceasing to be surrogate wars for national prestige. Many fans you meet here have just come for fun. I watched Switzerland-Ecuador in a beachside bar in Salvador packed with Chinese, Canadians and Americans along to support whoever, and when Ecuador lost I don't think anyone threw themselves off the rocks into the Atlantic. As one American here explained his World Cup philosophy: "Beach. Games."
You saw the new thinking in Manaus. Traditionally, after a bad England result, the British tabloids demand the manager's sacking: "In the Name of God, Go!" If the opponent was an Islamic country, the headline becomes, "In the Name of Allah, Go!" But after losing to Italy, nobody invoked Amazonian rain gods to call for coach Roy Hodgson's departure. On the contrary: British journalists at the press conference afterwards were sweaty but generous. Hodgson had lost, but at least England hadn't stunk out the tournament, like in 2010.
Many other countries drew a similar lesson from 2010: the Swiss, Japanese, Brazilians and Dutch had bored everyone silly, and then lost. They don't want that this time. Brazil's coach Felipe Scolari, though a pragmatist, knows that his compatriots won't accept excessive caution. And as the great Dutchman Johan Cruijff once said, over time people only remember the beautiful teams, even the ones who lost.
The World Cup caravan treks around Brazil, and despite the sticky, sleepless nights on planes, traversing this continental-sized country, the mood is cheerful. So far this is a World Cup of joy, not fear. Jogo bonito, "the beautiful game", turns out to be not just a marketing slogan.