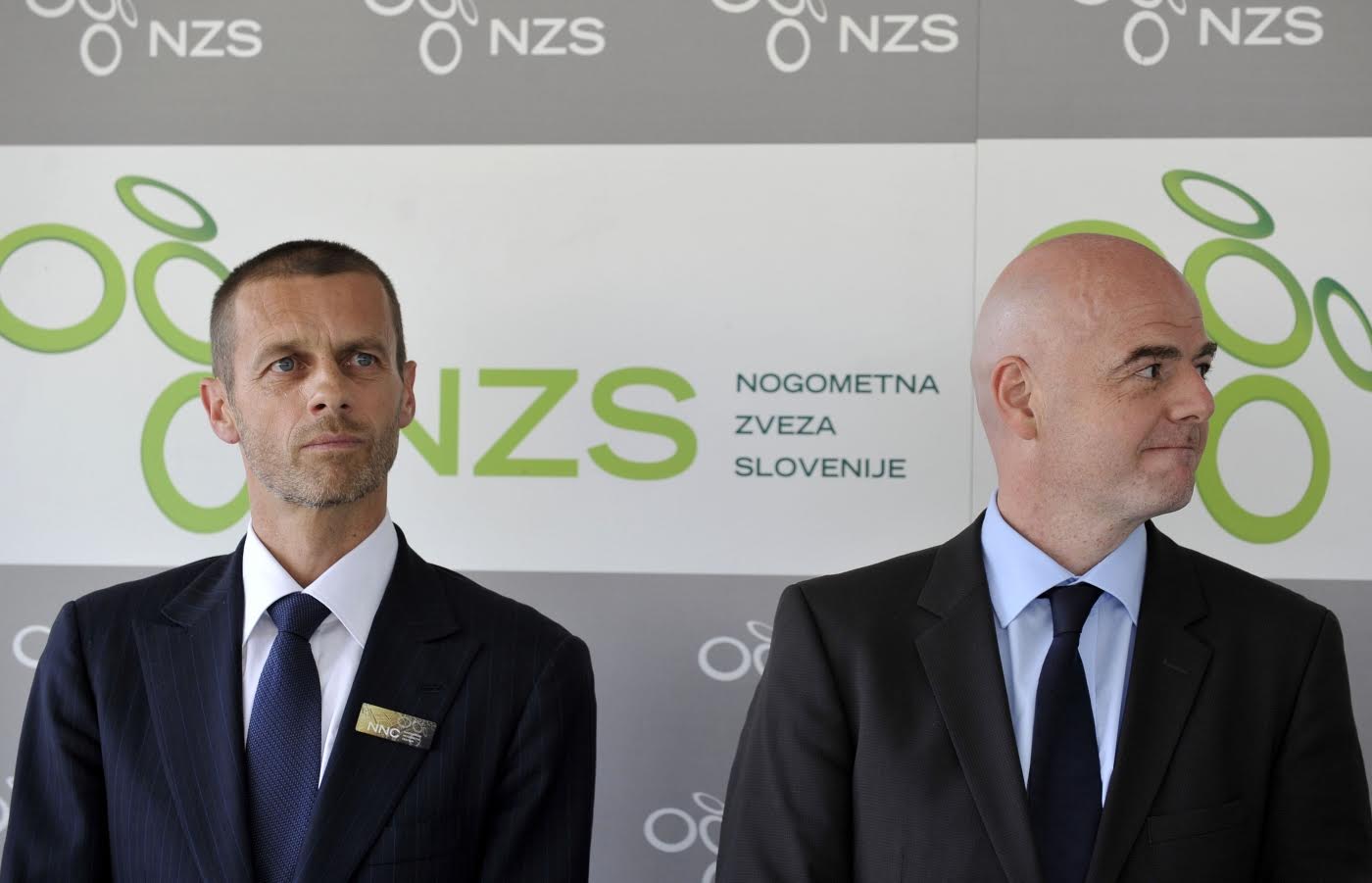 During the summer of 2015, UEFA granted the Slovenian Football Association a loan of four million euro. Strict conditions applied, however: Money must be invested in football. According to the annual report of the Slovenian FA, 3,6 million euro of the funds were probably spent on buying shares in the company Sportna Loterija.
By Håvard Melnæs, Jan Jensen (Ekstra Bladet), Pål Ødegård and Andreas Selliaas
Translated into English by Lars Johnsen
UEFA is an organisation of substantial income with a two billion euro turnover in 2014/15 and the European football governing body's surplus amounted to 30 million euro. In recent years, UEFA has become a quasi-bank for some of the smaller, less well-off nations. Total lending from UEFA to its member associations reached 29 million euro in 2014. One year later and it had almost doubled, with 54 million euro being lent.
The Slovenian FA is one of the financially weakest in Europe. In 2015 the Association's turnover was roughly 17 million euro. The Football Association of Norway, in comparison, had a turnover of about 110 million euro the same year.
Infantino and Čeferin
During 2015, the Slovenian FA took out two big loans: Three million euro from Russia's biggest bank, Sberbank, and four million euro was borrowed from UEFA.
Sources at UEFA tell Josimar that loan applications usually follow the same pattern; a President of a member association contacts the Secretary General of UEFA.
When the Slovenian FA asked UEFA for a loan, it most likely happened like this: The association's President, Aleksander Čeferin, approached the then-Secretary General of UEFA, Gianni Infantino. The reason behind the need for a loan, sources in Slovenia explain, was the building of a new national technical centre in Brdo.
Brdo is located in a historical region, north-west of the capital Ljubljana. The region's palace was built as early as the 1500s. Until 1941 it served as the summer residence of the Yugoslav royal family. Only recently it was opened to the public. In 2001 it was the location for a summit between Vladimir Putin and George W. Bush.
The annual report of the Slovenian FA states that the loan provided by the Russian bank Sberbank was spent on the building of the technical centre in Brdo.
The centre was officially opened in May. Aleksander Čeferin, Gianni Infantino, along with several Presidents of UEFA's member associations, including Sweden's Kai-Erik Nilsson and Finland's Pertti Alaja, were present.
It was two of today's most powerful men in football, Aleksander Čeferin and Gianni Infantino, who sat at the table when the four million euro loan was negotiated.
As previously reported by Josimar, Gianni Infantino wanted Aleksander Čeferin to be the new President of UEFA. Infantino's Director of Strategy, the Norwegian Kjetil Siem, has told several news outlets that he lobbied for Čeferin for almost two years.
According to Josimar's sources, the then-Secretary General Gianni Infantino wanted UEFA to grant the Slovenian FA the loan. UEFA's Director of Finance, Josef Koller, and the Head of UEFA's Financial Committee, Marios Lefkaritis of Cyprus, did just that. They approved the four million euro loan application. Interest was set at 4% per annum.
Josimar's sources claim this to be a substantial amount. To their knowledge UEFA has never granted a loan of such magnitude before. UEFA Board Member and member of the Financial Committee, Denmark's Allan Hansen, says this loan amount is not extraordinary, though he adds that it is unusual for UEFA to grant loans to its member associations.
Bought shares
Josimar is in possession of the Slovenian FA's annual financial report for the year 2015. In addition to receiving two loans, the Slovenian FA made a particularly interesting investment.
The Slovenian FA acquired 17.3% of the shares in Sportna Loterija for 3.6 million euro. That made the Slovenian FA the fifth biggest owner of the company. The four biggest owners, who all own 20% are the Slovenian Skiing Federation, the national Olympic Committee, the national postal service and the state lottery, Loterija Slovenija.
It is highly unlikely that the Slovenian FA could have carried through such a transaction without the loan from UEFA, several sources in Slovenia tell Josimar.
«For years, the Slovenian FA has suffered from weak liquidity. It was the UEFA money that made it possible to invest in the stock», a source told Josimar.
Josimar has spoken to several people in Slovenia who confirm this, but no-one wanted to be quoted by name.
«Euphoria reigns here in Slovenia after Čeferin was elected UEFA President. To make statements that are perceived to be negative, is almost forbidden. It is 'hallelujah' all around, backed by an uncritical press», sources say.
Swiss silence
Slovenia is not a big footballing country. In the Alpine state of roughly two million people, skiing and basketball are the biggest sports, followed by handball and football. 38 075 people are registered as active footballers (of which 1533 are women). In comparison, Norway has almost 500 000 registered players.
On Friday, Josimar sent a number of questions to UEFA via email. Currently, on Tuesday afternoon, after having chased UEFA three times, none of the questions had been answered. (Although UEFA replied they would answer the questions as soon as possible.)
We have also sent several questions to the Slovenian FA. Unfortunately, as yet, we have received no reply.
Several UEFA sources confirmed to Josimar that money lent to a member association must be spent on football-related matters.
Allan Hansen, member of UEFA's Board as well as its Financial Committee, confirmed this too.
«There is a clear definition of what the money can be spent on», he said.
Asked whether UEFA would have granted a loan that was to be spent on partial acquisition of a company via the stock market, he gave this answer:
«No, I could not imagine that.»
Asked what the consequences for the Slovenian FA would be, if they were found to be in breach of the loan conditions, he replied:
«We would ask for an explanation and ask that the loan be repaid immediately.»
**UPDATE**
Here is the answer we received from the media officer of the Slovenian FA Tuesday evening:
Dear Håvard,
I'd like to thank you for your sudden interest in Slovenian football.
The information you are seeking is a matter of public record, it has been released both in Slovenian media and in the material that the journalists, who came to the FA Slovenia Congress meeting, received in their press kit. As a good investigative reporter with very credible sources in Slovenia, I am sure you won't have any problems finding the information you need.
Since your agenda is questionable at best, the FA Slovenia, as a small federation that we are, has to focus on its daily business rather than answering defamatory allegations by a conspiracy theory chasing publication.
Best regards,
Matjaž Krajnik
FA Slovenia Media Officer