The biggest game in history of Argentinian club football will be played in a few hours in Madrid. But who will take the role as the 12th man? Florentino Perez? Gianni Infantino? Or the well behaved football tourists taking selfies?
By Pål Ødegård
The concept of 'the 12th player' is known to even the most casual football fan. That extra team player who doesn't even need to be on the pitch, let alone kick a ball, to give one team an advantage over the other. According to Wikipedia, its first mention came from a magazine published by the University of Minnesota in 1900, where you could read about 'the mysterious influence of a 12th man on the team, the rooster'. The same Wikipedia entry goes on to mention subsequent references to this 'extra player'. Many of them quite amusing even if they all originate from the American version of 'football'. The first use of the term is probably older, as it is relevant to any sport where a team normally fields eleven players, like association football and cricket. Although its meaning can range from a substitute, a coach, hell, even a cheerleader or a seemingly biased referee, the most common meaning refers to the loyal and vocal supporter who pushes the other eleven into the decisive push when they would otherwise fall short. Or rather, a big group of supporters. This sort of unconditional loyalty and devotedness have made several prominent football clubs like Bayern Munich, Fenerbahçe, Flamengo, Rangers and Ferencvaros, to name a few, to retire shirt number 12.
A club like Stockport County even have their fans symbolically listed as their number 12 in the squad. In many of these clubs, the '12th player' is the most radical ones – the ultras. And arguably the most famous is Boca Juniors' barras bravas 'La Doce', or simply 'Twelve' in Spanish. It's them that fill the iconic La Bombonera stadium with the captivating cacophony in blue and yellow we saw in the first leg of this final. A show that not only regularly attracts scores of football tourists to Buenos Aires, but also creates the hype we now see as the spectacle hits the golden age of TV prime time. Boca's La Doce number many thousands, and are now led by a few individuals who not only control who run the club, but also control any revenue generated outside the stadium, whether it be merchandise, parking spaces, tickets or drug slinging. In other words, it's a mafia organization with a world famous brand. How big the percentage of Argentina's population who root for Boca is often discussed (Boca's fans like to say 50%+1), but a 2006 survey put it at 40%. In one sense Boca's supporters represent the problems with violence that has lead to the ban on away fans in the Argentinian league since 2013. A problem that lead to the most important match in their history having to be moved to the other side of the Atlantic to be completed safely. How ironic then, that Boca's initial 12th man was just that, one man, and a philanthropist with more than a just a hand in Boca's greatness.
We must rewind more than 90 years to when Uruguay's national team had impressed the Europeans with their dazzling and effective playing style as they strolled to an Olympic gold at the games in Paris in 1924. The Argentinian football federation (AFA), not just a little bit jealous of the success of their tiny neighbour, wanted to send a team to tour Europe to show them that they were no worse than the Celeste. Quarrels and bickering made it impossible to send a team put together from the best players of different teams, in other words a national team as we know it today. In the end Boca Juniors offered to go alone, and AFA accepted, modifying the league calendar to accommodate them. It wouldn't have been possible had it not been for an avid fan of the club that had only existed for two decades: Victoriano Augstín Caffarena.
Caffarena came from a relatively wealthy family, and sponsored the lion's share of the expenses. The Argentinian public hence felt it was Boca that represented the country, and the docks were packed with well-wishers to send the team off across the Atlantic. Caffarena went along with the team in the end on the twenty-two day boat trip as a hired pen for the newspaper El Telégrafo, but acted as much more than a passenger acting as a journalist. He massaged them, trained them, he acted as kit man, he organized recreational activities, and acted as a delegate. He simply did everything a modern club hires big teams of professionals to do today. Another delegate hence nicknamed him 'the twelfth man'.
And it was in no other place than Madrid where Boca Juniors' popularity rose beyond the reach of the other clubs back home. After a couple of rather anonymous performances in Vigo and A Coruña, two impressive wins against Atlético Madrid and Real Madrid in the Spanish capital made the Europeans realize that this was not just a team on holiday. Over the next five months Boca Juniors went on to win 15 of their 19 matches, racking up a goal difference of 40-16, and beating what was practically a German national team in the process. But they hadn't only dazzled the Europeans. Upon returning to Buenos Aires, they were lauded as national heroes, and AFA titled the 'Honourable Champions of 1925'. And so was the myth of the twelfth player, a label that passed from Caffarena and over to the fanatic Boca fans in general, despite the protagonist living on until 1972.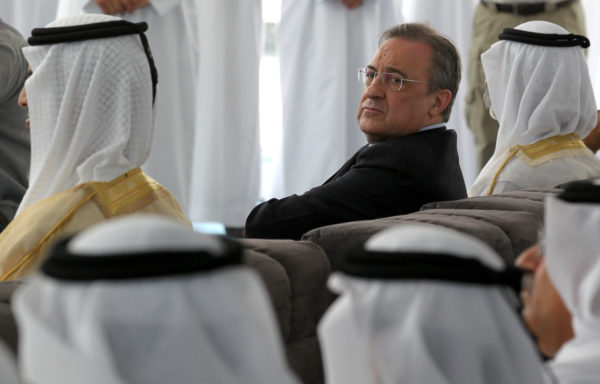 But tonight there's no Caffarena. Nor more than a fraction of the real 'La Doce' as most members can neither afford the trip or obtain a ticket to the match. The leaders are barred from entering Spain, and hence they can't control neither the income nor atmosphere in their greatest final to date. So who's the twelfth player now? Is it Real Madrid president Florentino Pérez, the beneficiary not only in both direct and indirect revenues, but perhaps most of all because of its publicity? Is it the FIFA president Gianni Infantino, who can now showcase what a Club World Cup can be like, persuading his voters to accept a deal backed by Chinese and Saudi cash in exchange for sportswashing and influence? Or is it their favourite type of fan, well off and well behaving football tourists that make their presence felt on the stadium not with non stop chanting, flag waving and pyrotechnical displays, but with their selfie taking cell phones and for-the-occasion-merchandise like half-and-half scarves?